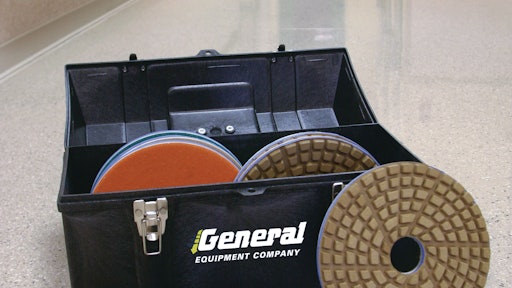 Designed for use with popular models of single- and dual-head, low-speed surface grinders, General Equipment Company's Pro Polish floor polishing system efficiently produces high-quality polished surfaces without the need for expensive and complex equipment. Typical applications include concrete, marble and any other surface that can be polished.
The Pro Polish system utilizes a series of seven 10-inch diameter diamond-polishing pads. These pads are easily secured to the appropriate surface grinder using Velcro. The chemistry of the diamond pads is specially formulated to operate at the lower rotational speeds commonly found in surface grinding equipment, including General Equipment's SG12 and SG24 Series surface grinders.
Polishing pads range in composition from 50 to 3,000 grit and are color-coded to simplify the progression from one pad to the next.
Users need only to follow the pad color sequence until the desired results are obtained.
Simple operation caters to all types of users, from seasoned contractors to do-it-yourself homeowners.
Hardeners can be combined with pads, usually 400 grit and higher, to help intensify the brilliance of the floor shine.
When properly used to maximize service life, the system will polish up to 15,000 square feet of concrete.
Request More Information
Fill out the form below to request more information about
General Equipment's Pro Polish System