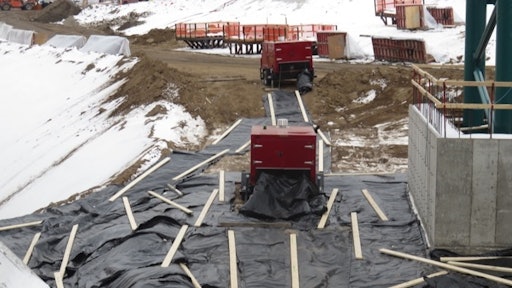 The Vikings Stadium is going up steadily despite this winter's extreme weather conditions. A Minnesota business is helping to make it possible — even on the coldest of cold days.
FlexTemp Systems manufactures and its affiliated business Winter Construction Specialties sells and rents surface heating equipment used in winter construction for ground thawing and concrete curing. The systems can be used on everything from a a small concrete curing job to a large excavation.
FlexTemp currently has five portable surface heating units installed at the Vikings Stadium project to keep the ground thawed and ready to go. Its Fusion 3000 is specifically engineered for thawing frozen ground, as well as warming and curing concrete, even at 30° below zero.
"Generally, you'll find 6 ft. of frost on the ground in a Minnesota winter — 8 ft. if it's brutally cold like it has been [in February 2015]," says Chuck Sanvik, FlexTemp Systems. "We can thaw 1 ft. of frozen ground per day with our machines, which are similar to home in-floor heating systems, just above ground. We lay a complex network of hoses on the ground, run them full of antifreeze and cover it all with insulating blankets."
"We build all year round and in all weather conditions. Here, in our home state of Minnesota, that can mean cold weather construction in winter, which can be challenging to project schedules and budgets," said Jason Brown, Mortenson Construction. "For that reason, it's important for us to work with partners who are also experts in these types of conditions, deliver value and can keep our projects moving forward. We selected FlexTemp and Winter Construction Specialties on the new stadium project in Minneapolis for this reason."
A similar system is used to cure concrete, allowing work to continue throughout the winter and resulting in more efficient scheduling of construction crews and equipment. Winter Constructions Specialties' cold weather concrete curing system handles pre-pour warming, thaws sub grades and cures concrete walls, forms, columns and slabs without the need for heated enclosures.
Large facilities like the Vikings or Twins Stadiums aren't even FlexTemp's most challenging projects. "The most difficult project we ever worked on was a SuperTarget in West St. Paul," says Sanvik. "We thawed 83,000 sq. ft. of ground, through asphalt, using more than 10 miles of hose, so construction could continue through a very harsh winter."