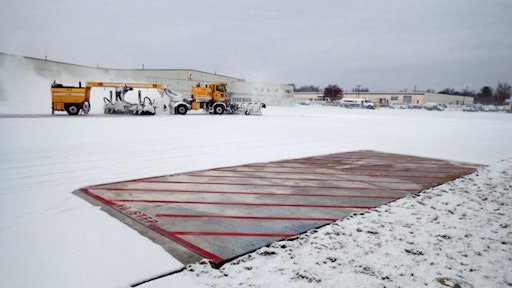 Late last fall Iowa State University's Halil Ceylan and his research team from Iowa State's Program for Sustainable Pavement Engineering and Research installed two, 15-by-13.5-foot test slabs of electrically conductive concrete into the apron at the southwest corner of the Elliott Aviation hangar on the north side of the Des Moines International Airport. The hangar is in the middle of the general aviation apron devoted to smaller aircraft.
The test slabs of electrically conductive concrete are made up of 1% carbon fiber and a special mix of cement, sand and rocks. The carbon fiber allows the concrete to conduct electricity, but there is some resistance to the moving electrons, which creates heat.
Alireza Sassani, a doctoral student in civil, construction and environmental engineering, led studies of the concrete mix. With help from the National Concrete Pavement Technology Center based at Iowa State, he prepared hundreds of concrete samples in the lab to find just the right combination of compressive strength, tensile strength, workability, durability and electrical conductivity.
The test slabs at the Des Moines airport are 7.5in. thick in two layers -- the bottom 4 in. are regular concrete, the top 3.5 are electrically conductive concrete. Between the layers are twelve metal electrodes, six per slab, running the width of each slab. The electrodes are wired to the nearby hangar's power supply.
The slabs are also wired with various sensors: temperature probes, strain gauges, humidity sensors and more. There are two surveillance cameras mounted nearby. And the team just acquired its newest research tool -- a high-grade thermal camera.
Ceylan and his research group have run the numbers: Using 333 watts per square meter (about the energy used by three light bulbs) for seven hours, the operating cost is about 19 cents per square meter.
Seven hours "is way more than enough to melt an inch of ice or snow," Ceylan said.
While the installation costs would be higher than regular pavements, the heated pavement technology also saves on the cost of plows, de-icing chemicals and wastewater treatment of chemical runoff.
Read more from www.sciencedaily.com