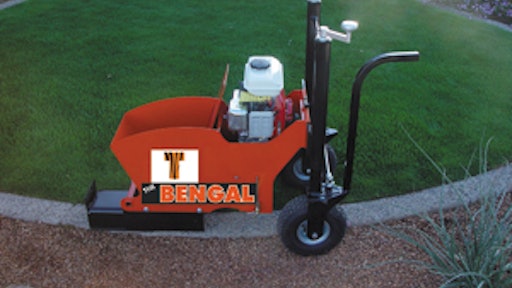 Tygar Mfg. TG1000
The Bengal TG1000 from Tygar can be used for residential or commercial curbing.
Attains speeds of up to 16 fpm
More than 16 stamped curb patterns and 20 molds available
Miller Formless M-1000 Curb & Gutter Machine
The M-1000 features closed-loop, variable-displacement track, auger and trimmer drive systems.
103-hp John Deere diesel engine
Microprocessor controls for elevation and steering
Charging hopper with heavy-duty modular auger
LeeBoy LBC-24W
The LeeBoy LBC-24W concrete curber is designed to give contractors a highly maneuverable, compact curb and gutter machine.
Can smoothly pour a radius as tight as 24 in., eliminating most hand forming
Guided by a Top-Con System V Plus 1 electronic grade and steering control system for accurate placement
Ideal for slip-form curb and gutter, alley ribbons and sidewalks up to 4 ft. wide
Decorative Curbmaking Machine
This hydraulic curbing machine from Decorative Curbmaking Machines is designed for the beginner or the seasoned pro.
Patented auger system continuously delivers concrete to the mold, utilizing 100 percent of the machine's positive energy
Produces 10 to 15 ft. of product per minute
Variety of colors and design finishes available
Gomaco GT-3600
Gomaco has made several improvements to the GT-3600 curb-and-gutter machines.
Hook-and-Go mold mount system works without pins or latches
Sensor arms more durable, lighter weight and easier to manipulate
Standard "Smart cylinders" for easy steering setup provide steering control feedback for push-button steering setup
Kwik Kerb Edgemaster
The Edgemaster Series 800 concrete curbing machine from Kwik Kerb has a lightweight design and variety of profiles to make it versatile and easy to use.
Gas or electric
Slip-steering for tight turn radius
Few moving parts to reduce maintenance and wear
Creative Equipment Design Curbcat
The Curbcat concrete slipform curb and gutter attachment turns your skid-steer loader into a slipform paver ready to pour in minutes.
Automatic control of grade and steering using sensors and stringline
Hydraulic vibrators and cylinders powered by skid-steer hydraulic system
Easily transported via pickup or trailer
Messinger Curb Fox 5000
The 5,000-lb. Curb Fox 5000 slipformer utilizes all-wheel, hydrostatic drive for operation in all subgrade conditions.
Slipforms curb and gutter up to 24 in. wide in the offset position and 36 in. wide in the center
Paves sidewalk up to 5 ft. wide and slipforms curbs up to 20 in. high
Features proportional electronic over hydraulic control system, 28-hp Kubota diesel engine and optional tight radius package
Concrete Edge Lil' Bubba
The Lil' Bubba line of self-propelled concrete curb machines is designed to easily create curb-style landscape borders in various commercial and residential applications.
4-hp gasoline engine
Auger or plunger drive
All-steel construction
Miller Spreader MC350 Curbilder
The MC350 Landscape Curbilder uses a 6-in. reciprocating plunger powered by a 3-hp Honda engine to push the curb mix from the hopper into the curb form.
Curb forms are reversible within the plunger housing to allow left- or right-hand curbing to be placed with the same form
Design allows for zero clearance on the right side of the machine when placing curb
MBW Slipform Paver
Paver can slipform any curb and gutter configuration up to 18 in. high by 48 in. wide.
Four-cycle, 26.5-hp diesel engine
Manual and automatic height controls
All-hydraulic drive systems can be operated in two-wheel drive in curb-only mode or three-wheel drive in curb and gutter mode
Terex CMI SF3500B Series
The SF3502B and SF3504B concrete slipform pavers feature massive frame section construction for minimal deflection paving over their entire 12- to 33-ft. paving widths.
HYDRAMATION grade control system delivers .125-in. precision for elevation, steering and cross slope control
Sound insulated 350-hp diesel engine power pack