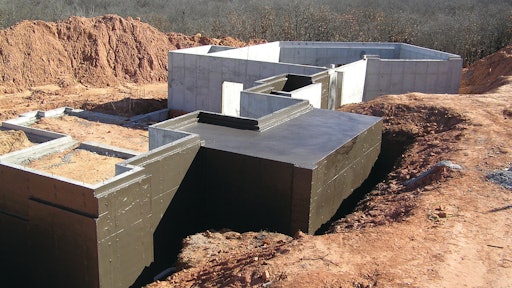 In 1994, Mike Hancock gave up his job as a project manager with a nuclear power plant to put his engineering background to use in the residential building industry. He moved to Oklahoma where he noticed basements didn't exist the way the rest of the country knew them. He saw the typical Oklahoma foundation company offering unreinforced stem walls - small, 6-inch-thick, 12-inch-high walls filled with sand with a concrete floor poured on top. Hancock explains requests for basements were built off the stem walls and resulted in more of a storm shelter that builders would call a basement. "It lacked reinforcement, waterproofing, drain tile and a sump pit - all the things we would normally do for a house with a basement," he says. Hancock says these "basements" had water problems, and residential basements never took off in Oklahoma.
On the commercial side, Hancock saw underground parking garages and shopping malls with walk-out basements. This signaled to him that basements were a possibility in Oklahoma. "I saw an opportunity to do something new, and I started building houses with basements," he explains. "Builders took notice of what I was doing. I was buying the cheapest lots, which were cheap because they had slopes to them so I could do walk-out basements. Soon they started asking if I could do that for them."
Basement Contractors of Oklahoma succeeded in building a basement market in Oklahoma, and now builds about 70 residential basements each year. And Hancock doesn't just build the basements - he offers engineering services to homebuilders so they know how to treat the site when his basement crew is gone. He has taught classes for the local building community through the PCA and a local concrete supplier where he runs through a slide show presentation to explain to builders the physics of proper basement building, backfilling around the foundation after the basement contractor leaves, and how to handle landscaping.
"We've taken the approach of selling the whole vehicle instead of just the tires," Hancock says. "Drainage, waterproofing, flatwork - we give them everything related to the basement and they just need to do the framing."
In situations where homebuilders need further assistance on building a structure, Hancock offers structural engineering services on framing, decks, and designing heating and air conditioning systems. Or Basement Contractors can contribute more to the house beyond the basement, including a concrete deck on the back of the house, structural concrete staircases or above-grade walls.
Currently, Basement Contractors is doing approximately 70 percent of its sales in basements, 15 percent in home and commercial building, and 15 percent in other areas such as engineering and specialty applications.
Building green
About 10 years ago, Basement Contractors started building insulated above-grade concrete walls, and over the years has built about 20 homes this way along with a handful of light commercial properties. Hancock says he has seen the green building market picking up momentum in recent years. "I think it's very important and people are very conscious of this kind of building, but there is still an economic decision people make based on what they want versus what they can afford. Homeowners are not willing to pay for green building features until they can earn their money back somehow," he explains. "An insulated concrete home with thermal mass of the walls maintains the home's environment more steadily than anything else out there, and it's a homeowner's least expensive green building item to invest in to gain the most out of."
"When it comes to the commercial realm," he continues, "commercial owners are starting to say, 'If we're going to build, we might as well build thermally efficient.' They want to minimize their exposure to damage in industrial areas and still have something that's architecturally pleasing. Of course, concrete lends itself to that, whether it be tilt-up, poured-in-place or ICF blocks."
Basement Contractors' crews are trained in several insulated concrete systems, including Thermomass, ThermaEZE and E-MAXX, which are all used in conjunction with aluminum forms. Crews are also trained on all major brands of ICFs. Hancock looks at a project in the planning stages and decides which system will work best in the building situation.
"I like the Thermomass system when both sides of the wall are going to be exposed so they can be finished on the outside and inside. If there will be brick on the outside, a lot of times we'll use E-MAXX or ThermaEZE and just put foam on the outside of the wall. If there will be sheet rock on the inside and the owner wants a little more sound proofing, we put the foam on the inside and outside. So we use the product that most benefits the customer," he explains.
Hancock adds that his company also utilizes insulating concrete forms (ICFs) in situations where those products ease construction, such as a one-sided pour, against a bank or against another wall on a remodel.
When building for energy efficiency, Hancock looks at how to best take advantage of concrete's thermal properties. Basement Contractors of Oklahoma rarely insulates basement walls, whether it's under a wood frame house or an insulated above-grade concrete walls home. Hancock explains that in southern climates, like Oklahoma, there are more cooling degree days than heating degree days so homeowners benefit more often from utilizing the thermal mass of the 65 degree soil temperature against the basement walls.
"People always teach contractors to insulate the basement, but I really believe that if you look at the numbers it is more energy efficient to not insulate the basement in a southern climate. We insulate to where our temperatures are going to be the highest because the heat transfers from hot to cold. If it's 100 degrees outside, we want to insulate the outside and don't want that heat to transfer into the house. We insulate our walls to keep the heat from coming in but allow the warmer house temperature to leave through the uninsulated basement walls and into the ground."
In addition to energy efficient building, Basement Contractors of Oklahoma utilizes fly ash and blast slag mixes whenever possible, in order to create a green mix using industrial waste as a substitute for cement in the concrete mix.
A recent project for Basement Contractors is a good example of the company's foray into green building. The project is an 8,000-square-foot Greek Orthodox church in Norman, Okla., with insulated concrete walls and a walk-out basement. The project started out as an ICF build, but Hancock saw potential for the building as an insulated poured-wall project.
Hancock reengineered the building in order to convert the job from ICFs to insulated poured walls. "We ended up being more economical and energy efficient than insulating concrete forms would have been," Hancock says.
One of the attractive features of the poured-wall construction was by using Thermomass panels sandwiched inside the concrete walls, there was no worry of hail damage to the foam on the outside of the building. Other features of the church include stained concrete floors in the basement and main level, stucco exterior walls and plaster interior walls, and individual slots for bar joists which eliminated the need for a joist ledge and thicker basement walls that are necessary for that style of construction.
Basement Contractors has successfully shown the opportunities available with concrete. They built a basement market in a part of the country where basements were unheard of and offer thermal efficient buildings that save homeowners money.