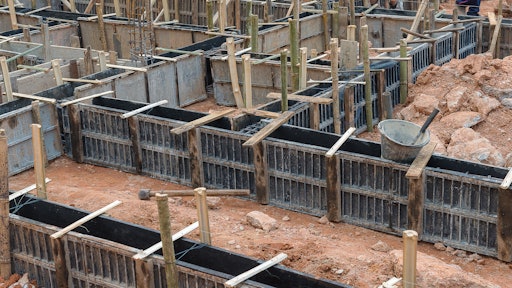 Adobe Stock Images | By srongkrod
Formwork is one of the biggest line items in most concrete budgets. It's also one of the most labor-intensive and time-consuming phases of the concrete construction process. And naturally, formwork operations are critically important for project success/margins.
When renting formwork, many contractors expect the formwork manufacturer to detail the formwork, deliver drawings, and provide a complete rental package that includes everything they need. However, detailing formwork doesn't generate revenue for most manufacturers, and those without an official service offering struggle to prioritize and deliver formwork drawings in a timely manner. It isn't uncommon for manufacturers to have a large project backlog. Depending on how those are prioritized, this can leave contractors waiting for formwork drawings.
Additionally, most formwork manufacturers use a traditional 2D process in which formwork and other concrete construction planning tasks are completely disconnected. For example, formwork manufacturers don't have access to rebar or embed drawings, making it impossible to identify problems ahead of time. When pour planning, quantity takeoffs, lift, and formwork drawing information is disconnected, reacting to changes becomes error-prone and time-consuming. In addition, formwork CAD blocks don't often represent reality. 2D CAD blocks don't accurately represent formwork systems and thus, many problems are only found as formwork is being installed. Combined, these challenges open the door to costly delays with the potential to derail a project.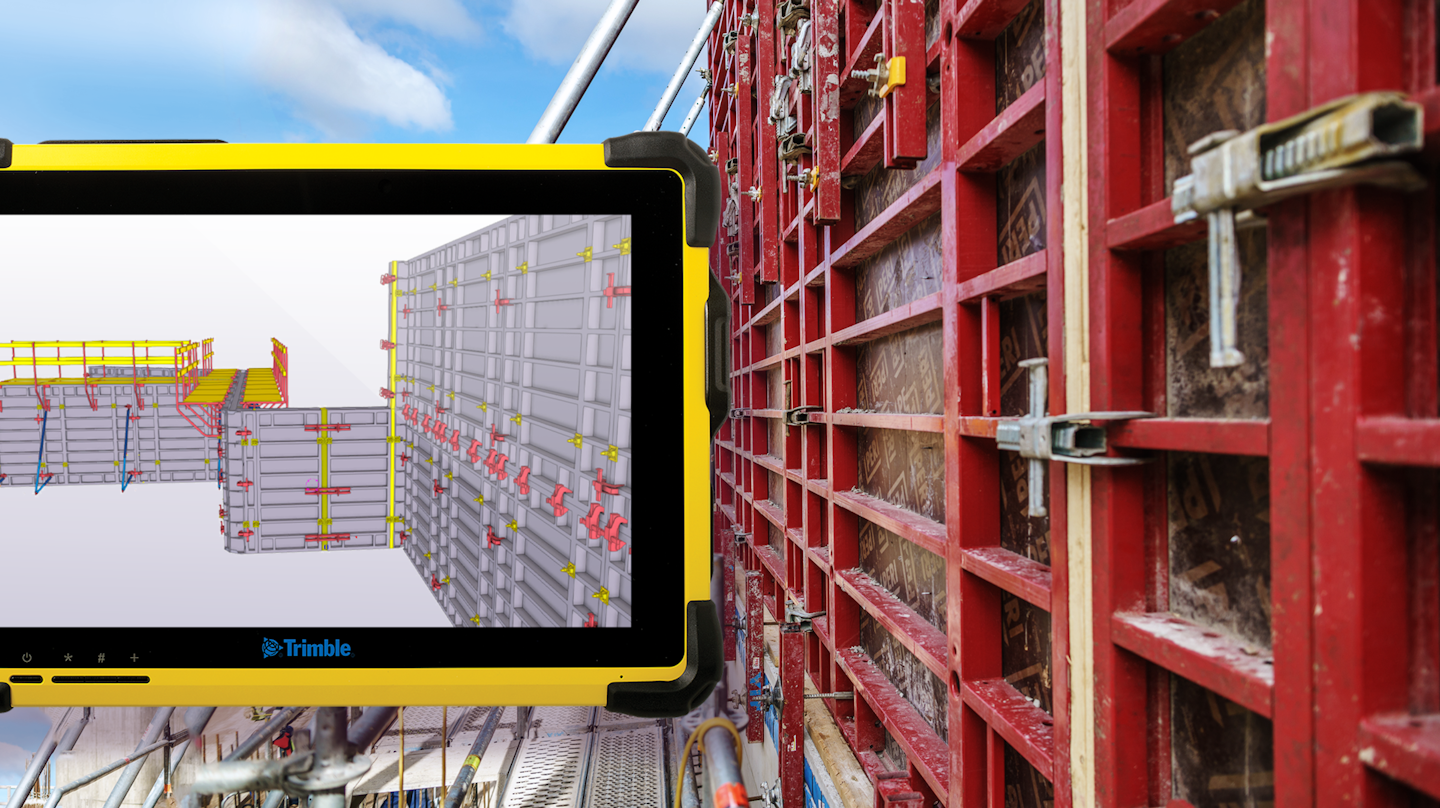 It can be overwhelming, but given patience and the right technologies in the planning process, installation teams can access 3D formwork models and associated, up-to-date information and documents in the field.Trimble Navigation Ltd.

How to Bring Formwork Detailing In-House
To overcome these challenges and accelerate the process, a growing number of contractors are moving formwork detailing in-house. By detailing some or all of their formwork, contractors can save time, prevent mistakes and streamline formwork operations on site.
Using BIM software for 3D formwork planning, concrete contractors can create formwork drawings, deliver the right information to workers in the field, and spot problems before it's too late. This minimizes risks, improves productivity, and reduces construction costs through more accurate estimating and planning, efficient management of high-quality information, and streamlined coordination and communication.
Additionally, most contractors use multiple formwork systems, each one requiring them to learn and use a different tool. Because BIM software is manufacturer agnostic, contractors can detail formwork systems from any manufacturer without learning and using multiple tools.  
Start Small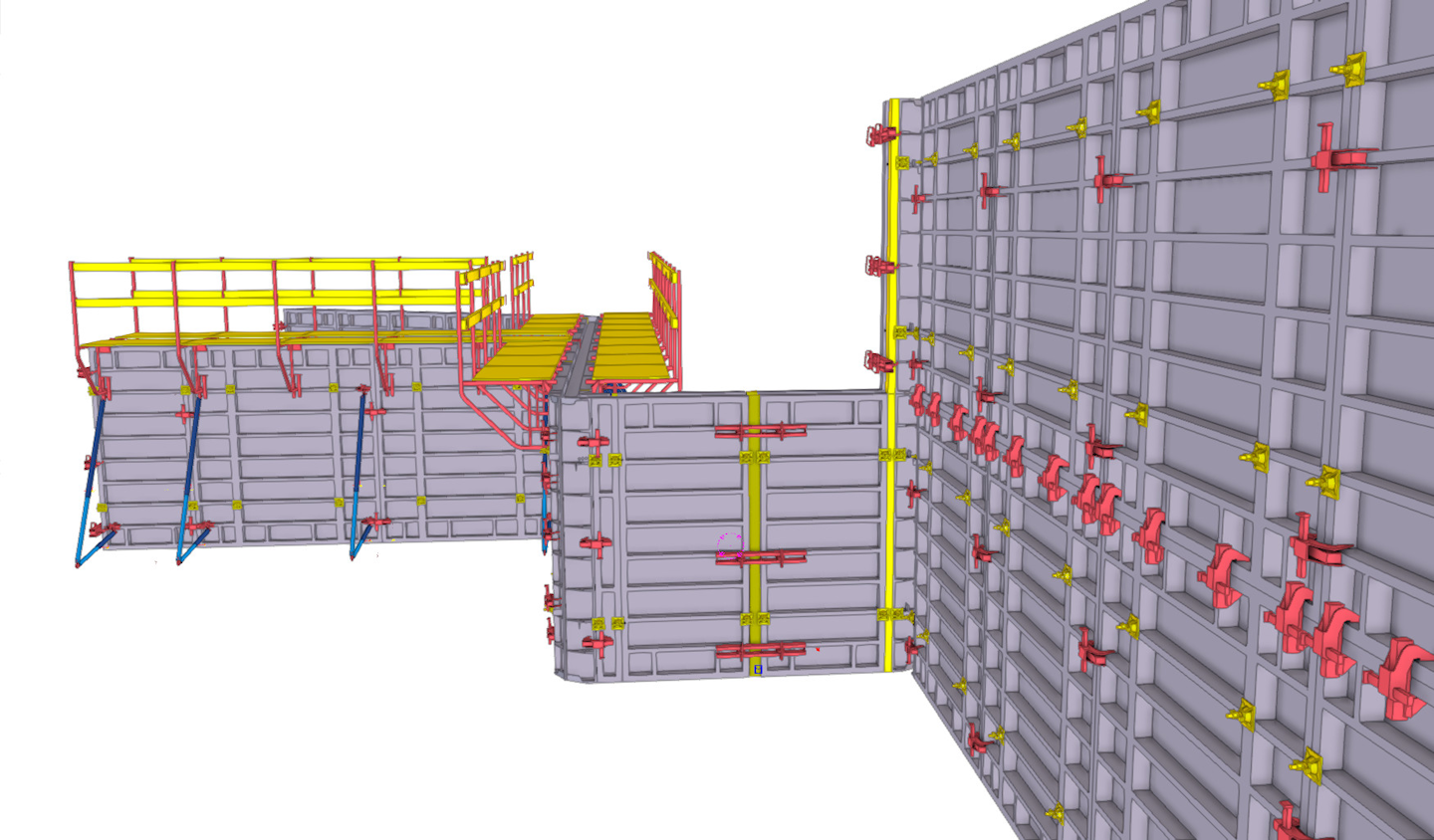 Start small and use the tools available. Many 3D models are already out there for download and include details like catalog numbers and shipping weight.Trimble Navigation Ltd.While detailing formwork in-house may seem overwhelming, many contractors start small and continue to rely on formwork manufacturers to detail big projects while detailing straightforward jobs that don't require engineering calculations in-house. This is a great way to chip away at the risks and problems that arise when formwork drawings take too long.
Whether starting small or jumping right in, a few factors will determine success. Most contractors who begin detailing in-house do so because they want to move faster and waiting for formwork drawings has pushed them to find a better way. Doing so requires a value-driven mindset in which everyone is on board to start projects with a strong, constructible 3D model from the beginning.  
It's also important to have the right people on board. However, that talent isn't necessarily something contractors need to acquire. Detailing formwork in 3D is basically building the structure virtually before building it in real life. Anyone who is passionate about concrete and understands how everything comes together on the jobsite can take the lead. Some contractors use a buddy system and partner a construction-savvy person with someone who is comfortable with technology or has experience working with BIM software. Both individuals learn through the process and in the end, the contractor has two in-house detailers. It's a win-win.
Additionally, some formwork manufacturers publish 3D components for some of their most popular systems for use with BIM software. Contractors can download constructible 3D components, including wall and floor systems, directly into 3D project models. This makes it easy for contractors to quantify and plan formwork. Because these components are provided directly from the manufacturer, they contain detailed information, such as catalog numbers and shipping weight, so the model is accurate and formwork planning is more efficient.
A Closer Look at Productive Formwork Planning
Tekla Structures is a Building Information Modeling (BIM) software that enables the creation and management of 3D models for the construction industry.Trimble Navigation Ltd.Adam Joraanstad, a formwork detailer with F.A. Wilhelm Construction, began modeling formwork using Trimble's BIM software, Tekla Structures to increase accuracy and accelerate the formwork planning process. "With the model, we know we are right," says Joraanstad. "We know we have the right material, we know where things are supposed to be."
One of the most common causes of construction waste arises from the "order more than we think we'll need" mindset. Often, formwork takeoffs are performed manually. To reduce the risk of having too little formwork on hand, it's common for contractors to order extra formwork components just in case, which leads to waste due to lost or damaged equipment when those components spend long periods of time on the jobsite unused. Modeling formwork allows for instant material take-offs. Formwork drawings and 3D visualizations can be generated from the model and dimensions and annotations added using automated tools.
Detailing formwork in 3D allows F.A. Wilhelm Construction to reduce construction time, minimize on-site risk and confidently prepare for successful pours without guesswork. "Because we no longer rely on generic quantities, our pour counts are more accurate," Joraanstad says.
Following in their footsteps, it's possible for concrete contractors to take some or all of their formwork detailing and planning in-house. With the right BIM software, talent and mindset, concrete contractors can accelerate formwork processes and succeed.
About the author
Andy Dickey is a global business development manager at Trimble.
Companies in this article