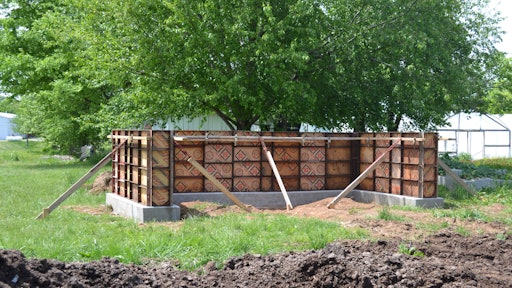 How many undergraduates in a concrete formwork class get a chance to form and place a concrete footing, then snap a line on the footing to align prefabricated wall form panel followed by setting, connecting, and bracing adjoining panels for one side of the wall? Then setting forms for the other side of the wall, installing ties, bracing, and plumbing the forms. Concrete Industry Management (CIM) students at Middle Tennessee State University did just that while building a U-shaped wall section as part of a closing exercise in their Formwork for Concrete class. Next, they placed and consolidated the concrete, and stripped the forms.
The wall was built for a purpose. Dr. Heather Brown's CIM students in her Senior Concrete Research class are evaluating several different methods for measuring the area of air voids (bugholes) on concrete wall surfaces. Depending on the use for a wall, specifications may contain requirements that control the size and frequency of surface air voids by limiting the maximum size and total area of the voids. The American Concrete Institute's "Guide to Formed Concrete Surfaces (ACI 347.3R-13) contains recommendations for surface porosity requirements but doesn't include detailed sampling and measuring methods. The CIM students are studying different methods for doing this, based upon time needed for measurement, cost of measuring equipment needed, and accuracy and precision of different methods.
All of this is just one part of a research project titled "Evaluation and Examination of ACI 347.3R "Guide to Formed Concrete Surfaces" and funded by the American Society of Concrete Contractors (ASCC). Further funding has been provided by the National Ready Mixed Concrete Association and the American Concrete Institute. Dr. Ward Malisch, Principal Investigator for the project, and ASCC Technical Director Dr. Bruce Suprenant were present to observe students work. Dr. Brown is co-investigator for this project and led the field work, which allows CIM students to take on real-world issues and develop methods for dealing with them.
"The CIM Program is very fortunate to have industry partners and trade associations willing to use our students as field technicians on research projects," Dr. Brown says. "Students are always eager to learn the current issues that the concrete industry is facing and we strive to bring that to the classroom and lab."
For more information about the CIM research, contact Dr. Heather J. Brown, Chair and Professor, heather.brown@mtsu.edu, (615) 904-8060.
Companies in this article