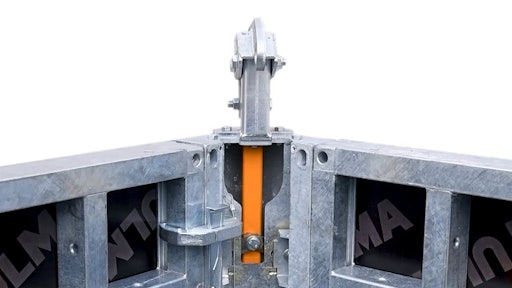 Ulma Form-Works
The STRIPPING CORNER MAX simplifies wall formwork erection and stripping in elevator shafts or stairwells, hollow piers or any other interior wall type. Only one person is needed to operate the entire system and it provides high efficiency at the job site, saving execution time, since the formwork can be quickly repositioned without disassembling formwork panels connected. The STRIPPING CORNER MAX provides three different options to set and strip the system, avoiding three of them collision with adjacent rebar:
Manual operation, requiring a single upward or downward movement of the head using the stripping lever
By a crane with a single vertical movement to expand and retract the corner pulling on the stripping head holes
Hydraulic operation via a hydraulic jack that is fixed on top of the central tube of the stripping corner
Key Features:
Safely activated with one single movement
Intuit and fast handling
No need to dismantle panels for stripping
Easy to maintain
Available in three heights: 10 ft., 8 ft., and 4 ft.
Maximum pressure to withstand is 1670 psf
Robust galvanized endplate and stripping mechanism
Quick lateral connection with panels using clamps
Stripping: Manual operation, by crane and hydraulic option
Lifting capacity: 4.4 Kips
Secure and easy vertical connection (stacking) to achieve different height combinations.
Request More Information
Fill out the form below to request more information about
Ulma Form-Works Stripping Corner Max