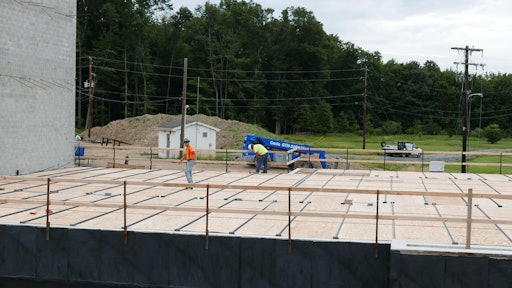 Innovative Concrete
Wood has been the concrete contractor's formwork of choice for years. It's relatively inexpensive and easy to understand, light weight, can be easily cut to size, and easy to replace and dismantle.
However, lumber formwork also has its disadvantages. It has limited usage and cannot be reused on one job to the next. Wooden formwork also been known to absorb water from concrete when dry, reducing the strength in concrete structure. On the other hand, lumber with too much moisture can compress wet concrete and cause cracks when shrinking occurs.  
These challenges have resulted in hundreds of formwork alternatives— from steel, aluminum, manufactured timber, plywood, plastics and fabric—that claim to offer the trifecta: saved time, labor and money.
Formwork is a crucial element to concrete construction, though, so selecting the right formwork is essential to any job. In fact, the right choice can greatly affect the schedule, labor requirements, quality and total cost of a project, says Michael Schaeffer, senior U.S. product manager with Doka USA.  
"Formwork, the temporary or permanent molds used to hold wet concrete until it sets, is a crucial element in concrete construction. Just as important is selection of the right formwork," Schaeffer notes. "Over the years, formwork molds have evolved from traditional job-built timber to pre-engineered systems composed of a combination of steel, aluminum, manufactured timber, plywood and plastics. These advancements in formwork molds have led to increased jobsite production and safety, with less labor, while producing a better-finished product."
But with so many options, how can contractors choose the right one. Schaeffer suggests the following tips to consider when choosing a formwork system:
Is the material you require readily available? Does the supplier manufacture the material, or do they purchase it from another company?
Can the formwork supplier pre-assemble some or all of the formwork prior to delivery? This can reduce rental cost, save labor requirements and minimize assembly area requirements.
Does the supplier provide on-site field service to train and reduce the learning curve of the formwork crew?
How safe is the system to install, use and dismantle? Can the forms easily be climbed and are tie-off points built into the system where required?
What experience does the firm have with your type of project?
Does the supplier offer engineering services? Will the supplier provide formwork assembly drawings specifically for the project or only provide general drawings of the system?
Now let's look at a few of the newest formwork alternatives on the market:
Rapid Form Bracket
The Rapid Form Bracket from Innovative Concrete was designed to take the place of lumber supports in the construction of elevated slabs. The bracket is commonly used for work on foundations around a building, when constructing loading docks, or any job involving vertical work.
Made of steel and then powder-coated to keep away rust, the bracket's inventor Bob Kalbach says it eliminates the labor and costs involved in purchasing, layout, measuring, cutting, constructing and cleaning up after stripping of wood supports. He estimates that the traditional process takes about three times longer than the bracket does.
When a slab is designed to turn down on top of a wall, you have to form the outer edges so that concrete doesn't go over the top of the wall. Traditionally, this is done by cutting two by fours that hold the form against wall. The pieces are layered on top of each other, the form is attached and then everything is braced. Once the concrete is poured, the supports then are removed and thrown away.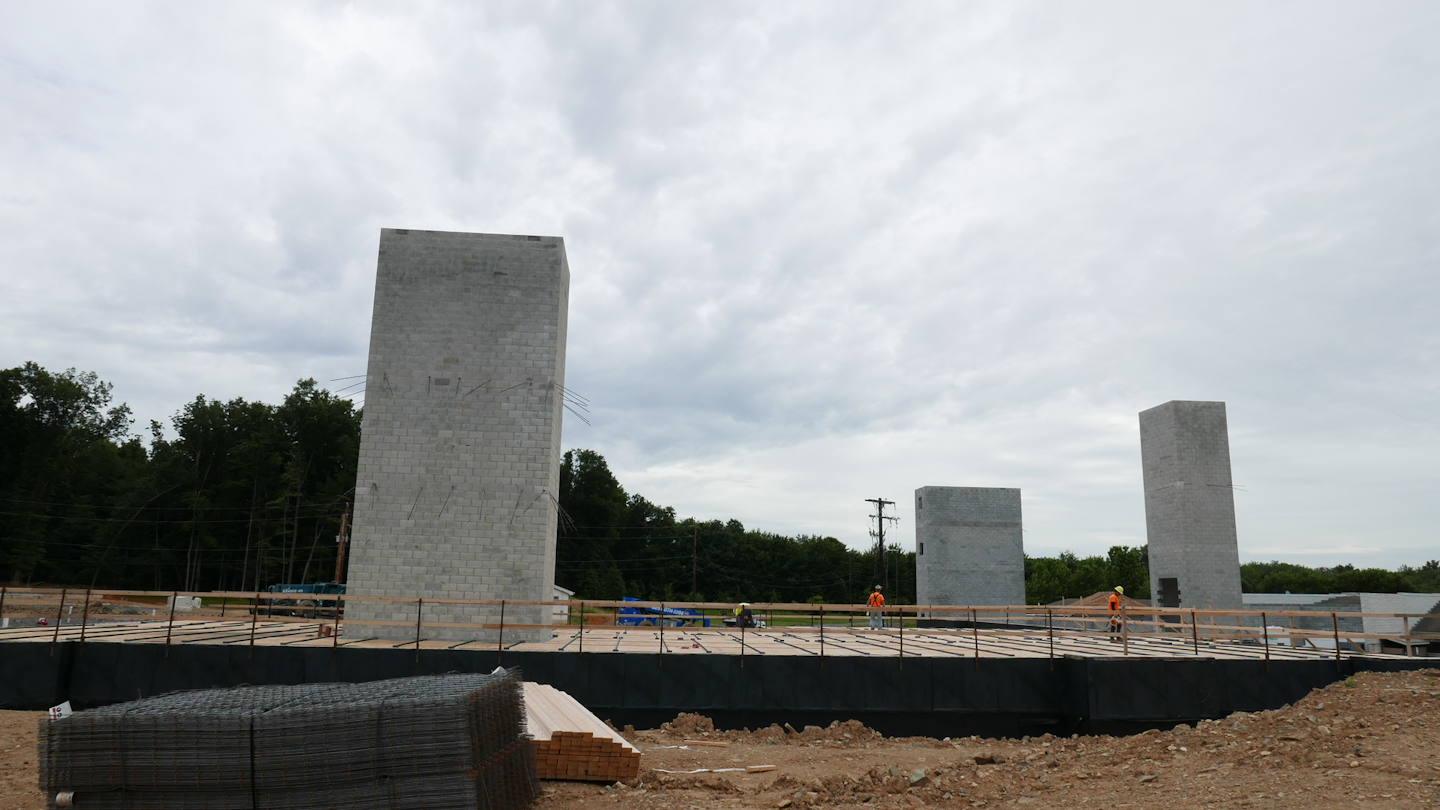 Made of steel, the Rapid Form Bracket takes the place of lumber supports in the construction of elevated slabs.Innovative Concrete
"Why are we paying $1,200 for a pallet of wood, cutting it all up and taking these pieces and throwing them away when we're done. Not just that, but you have to collect all of that. Hundreds of pieces collected and then thrown in the dumpster," asks Kalbach.
The bracket was recently used during the construction of a four-story office building for LifeQuest, totaling 3,675 lineal feet of slab form. The project called for 925 brackets, which saved the company approximately 720 two by fours at a cost of $4,800. In addition, the contractor estimates a labor savings of $26,800.
Fabric Formwork
The use of fabric formwork began in the early 20th century with concrete architectural structures. Today, the formwork alternative is slowly gaining momentum in the construction industry as the public's focus on sustainability grows. The industry is increasingly being asked to address and lower its carbon footprint. While the use of wood and/or metal is not completely eliminated by using fabric, it can be reduced to essential components thereby saving natural resources.
Using fabric formwork, such as a geotextile, offers several additional advantages, according to an article by Robert P. Schmitz, a registered professional engineer, with more than 35-years' experience in architecture and structural engineering. Those benefits include:
The possibility to form very complex shapes
Fabric is strong, lightweight, inexpensive and reusable
Improved surface finish and durability due to its filtering action
More efficient and sustainable design because material is placed only where it is needed
Increased freedom of design expression, allowing architects and designers to think beyond the simple prismatic shape
Schmitz notes that fabric formwork does have its disadvantages though. Those include:
Relaxation can occur due to the pre-stress forces in the membrane
The potential for creep in the geotextile material, which can be accelerated by an increase in temperature as might occur during hydration of the concrete as it cures
The concrete must be placed carefully, and the fabric formwork not jostled while the concrete is in a plastic state
"However, until new fabrics are developed, the benefits of using geotextiles far outweighs any disadvantages," Schmitz writes. "In addition, unless standards and guidelines for use in precast and cast-in-place forming systems are developed, this method of forming concrete will remain a niche market exploited only by those brave and bold enough to challenge the status quo. To be of practical use to the design community, some standardization of systems and guidance are needed for contractors to feel comfortable using flexible formworks."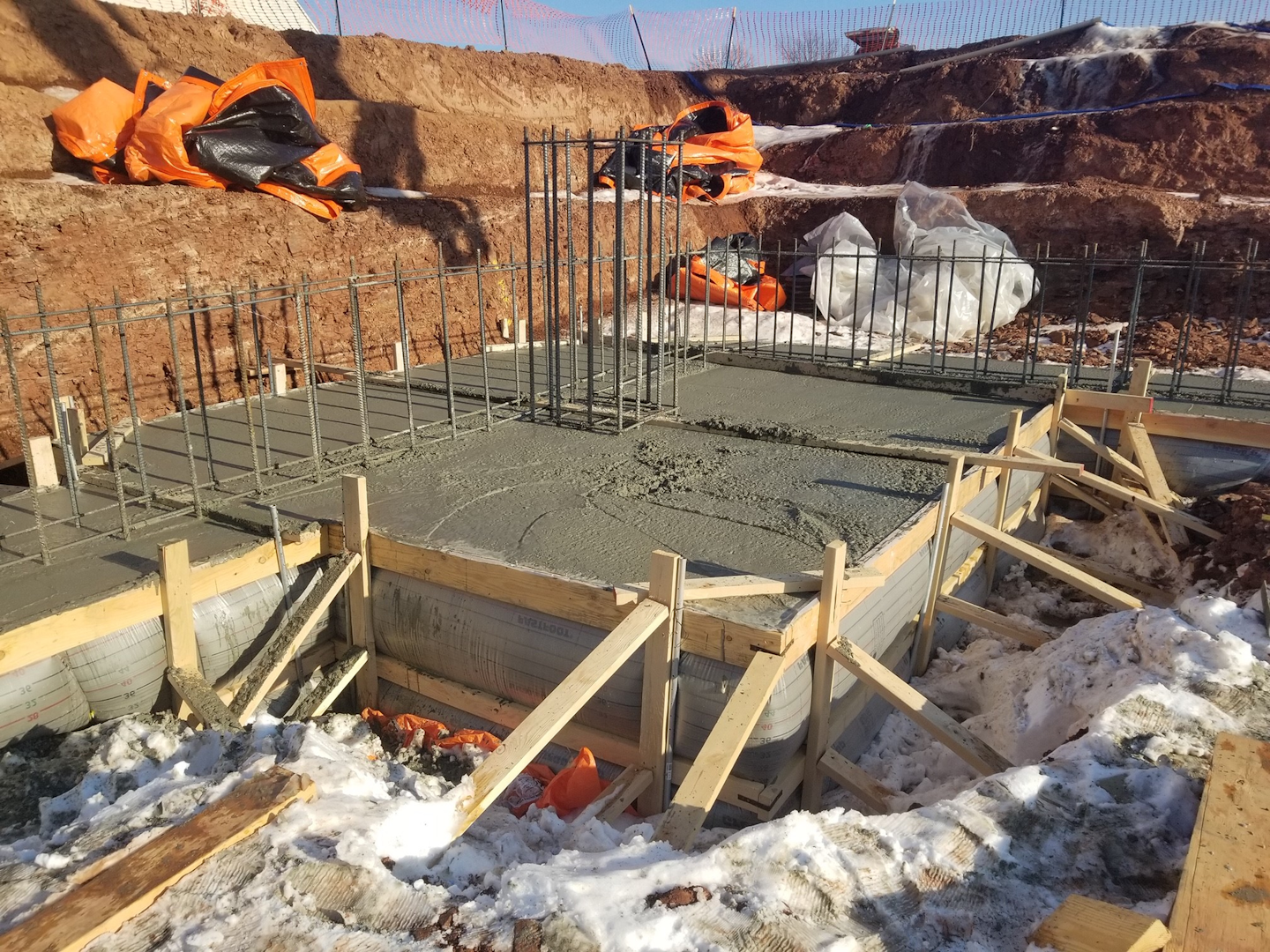 Made of high-density polyethylene fabric, Fab-Form's markets its products as a green replacement of lumber and plywood for forming concrete footings.Fab-Form Industries
Leading the charge for adoption in the construction industry, Richard Fearn, owner and founder of Fab-Form Industries, Ltd., has developed several fabric forming products, including Fastfoot for continuous and spread footings, Fastbag for spread footings, and Fast-Tube for piers and columns.
Made of high-density polyethylene fabric, Fab-Form's markets its products as a "green replacement of lumber and plywood for forming concrete footings."
Force Concrete & Masonry Corporation of Piscataway, New Jersey, has been working with Fab-Form for nearly a decade. They recently used the Fastfoot product to form the footings of Rutgers University's new Health & Athletic Performance Center.
The project had a tight deadline—just six months. Because Force Concrete & Masonry was able to setup huge amounts of formwork before the pour took place, they were able to pour all the concrete in one day, keeping the project on track. In addition, because the fabric prevents the concrete from touching the lumber framework, the lumber framework can be reused and easily stripped, further increasing labor productivity.
"When you strip [the forms], you only remove the lumber framework," explains Bill Pavlic of Force Concrete & Masonry. "The fabric conforms to the uneven ground, which makes it a lot easier. If you're using regular forms, you have to go back and patch in the bottom or other spaces."
Insulated Concrete Forms
Insulated Concrete Forms (ICF) are not a new technology, but they are seeing a resurgence in popularity. In fact, before the collapse of the housing industry in 2008, many homes were built with ICFs—a type of permanent concrete formwork that create the external wall envelope of a building. The alternative formwork has regained some of that traction in recent year, though, as the popularity of energy efficient and disaster resistant homes and buildings grows.
In the past, single family residential accounted for about 70% of ICF construction compared to about 30% for commercial or multifamily uses, according to a report by the Portland Cement Association. (PCA). But, use in larger commercial buildings appears to be a growing market for several reasons. Chief among them is the potential for reducing energy to heat and cool the building. 
Shown here are Nudura Insulated Concrete Forms, which meet the demands of today's buildings, offering an energy efficient and eco-friendly construction option.Nudura
According to the PCA report, some estimates place the savings at 20 percent or more. The R-value for a typical ICF is about 20, and the walls can often have high air tightness 10-30% better than frame-with compatible windows, doors and roof. As a result, assuming a 100-year service life, PCA estimates one single-family ICF home has the potential to save about 110 tons of CO2 compared to a traditional wood frame home.
"This more than offsets the CO2 associated with the production of the cement used to make the concrete," the report adds. 
In addition, ICF save natural resources by eliminating the structures wood frame. The forms also often contain recycled materials.