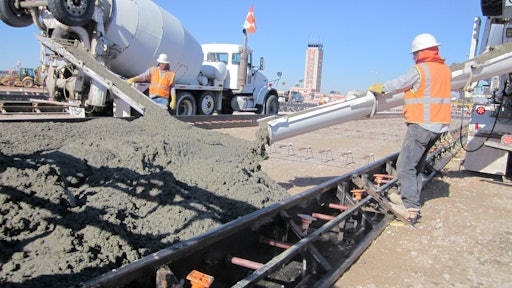 By Tom Miller, CEO, Metal Forms Corp.
Metal forms that are adjustable to accommodate different paving depths can save time on the job and help reduce costs. These reusable forms are easy to set and strip and are available for use on many different types of paving projects.
In one example, Archer Western Construction used adjustable forms to build the concrete plinths that form the running surfaces for the monorail system at Orlando International Airport. The plinths are roughly 8,000 ft. long with a total of four tracks, some of which vary in height from 9 to 12 in. and others from 12 to 16 in. All of the variances are due to elevation differences in the base. However, the concrete plinths are required to be level through the course to provide level travel.
The forms were designed and custom-fabricated by Metal Forms Corporation with an adjustable front skin that could be lowered and raised to heights of 9 or 12 in. (12 or 16 in. for another taller form), as well as any desired size in between. The ends had a sliding track that helped keep the forms in alignment while they were being adjusted. All forms were manufactured from 10-gauge steel in 10-ft. lengths. 
In another case, RGG United Contractors, Inc. (RGG) completed a major terminal gate repaving project four months ahead of schedule at Phoenix Sky Harbor International Airport using reversible metal paving forms that are can accommodate different concrete depths. The contractor ordered 160 DUAL Paving Forms in two different sizes, totaling more than 1,600 lineal feet. All were 10 ft. in length, made of 1/4-in. steel, and designed so they can be used for two different pavement depths. Some of the forms could be used for 18- or 22.5-in. pavement, while others could be used for 18- or 16-in. depths. This feature gave the contractor greater flexibility for use on this and future jobs.
On a multi-year terminal apron rehabilitation project at Tucson International Airport, Granite Construction used adjustable metal paving forms with built-in dowel holders to maintain productivity and meet tight tolerances. Here, the contractor used a total of 571 DUAL Paving Forms in five different sizes, totaling more than 5,700 lineal feet. All were 10 ft. in length and designed so they could be used for two different pavement depths. For example, some of the forms used for 16-in.-deep areas also could be used for 18-in. pavement. In many instances, both sides of the forms were utilized. For instance, the 9" x 6.5" forms satisfied the thickness requirements on two separate structural sections of the project. On some of the forms, the second dimensions were not used on this project, but provided opportunities for future use.
Meridian Contracting uses metal forms to pour parapets on box culverts for highway renovation and reconstruction projects. The forms are designed so the company can use them for single- or double-slope parapets (wall barriers) with minor adjustments. Compared to the alternative of using wood forms, the metal forms save the contractor a considerable amount of time. Not only are they easier to set up, but they can be removed more quickly and re-set at the next location.
On the job, the contractor can gang-lift both sides at the same time. With wood forms, it would have to strip each side separately and would get minimal re-use from them. The contractor reports that the metal forms also provide a higher quality end product than wood forms, with much less finishing, which also saves time and money.