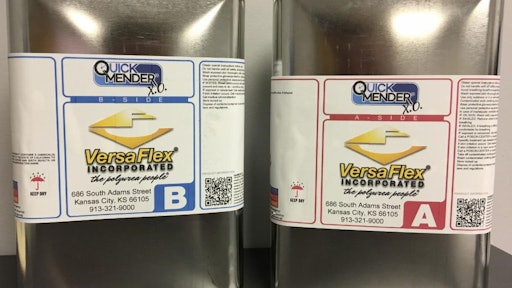 Quick Mender X.O. is a minimal odor system, specially formulated for interior and confined spaces; applied at a 1:1 mix ratio and may be applied with a steel bladed squeegee, ¼" nap roller, or brush. Quick Mender X.O. is available in 68 standard colors direct from the factory in easy-to-use 600ml cartridge sets, two quart kits, two gallon kits, 10 gallon kits and 110 gallon kits.
Advantages
Minimal Odor & VOC's

Perfect for use in interior and confined spaces

Low Viscosity in neat configuration will penetrate concrete for permanent bond

Fast return to service in 30 minutes

Can cure in -25°F. Cure time will be extended at lower temperatures

Mix with dry industrial quartz to produce a durable polymer concrete

May be mixed with polishing dust, Portland cement, silica flour, fumed silica, and cabosil

Self-leveling

May be feather-edged

Good chemical resistance
Ideal Applications:
Repairing spalls and cracks in traffic areas on concrete surfaces

Restoring integrity to dusted concrete

Filling pop-outs on horizontal surfaces

Below grade repairs

Parking deck repairs

Spalled control joints

Freezer applications

Polished concrete floors
Versafelx will begin phasing out Quick Mender L.O. over the coming months, with the Quick Mender X.O. 
Request More Information
Fill out the form below to request more information about
Versaflex Quick Mender X.O. a New and Improved Concrete Repair Polymer