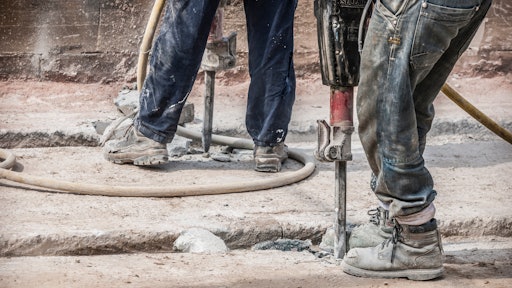 @hubb67 - stock.adobe.com
The biggest danger on the modern jobsite may be hidden, whether it's underground utilities or post-tension cables embedded in a concrete slab. Compliance with safety regulations and industry norms requires teams to know specifically where these dangers are to mitigate any risks before digging into the ground or drilling into concrete.
Luckily, with technology like ground penetrating radar (GPR), the jobsite is no longer a guessing game. Contractors and civil and structural engineers now have unprecedented visibility into the real-world conditions they face. GPR can help locate rebar, voids, post-tension cables, cavities, conduits, and any other objects in the structure before cutting or drilling into the concrete.
Building owners, architects, engineers, and contractors increasingly request imaging technology to identify utilities and structural elements before digging. While locating hidden dangers complies with safety regulations and industry standards and can eliminate headaches in the near term, it can pay substantial dividends in the long term.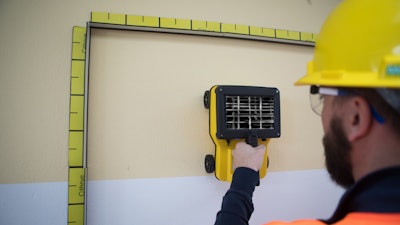 Typically, engineering specs will call for avoiding rebar when drilling into concrete, and depending on the age of the building, there may be little to no information about the layout of the rebar. In the past, teams used X-rays to confirm that nothing was in the concrete where they were about to drill. While X-ray is effective, GPR gives teams a similar level of insight without needing to clear out an entire room due to potential radiation. The beauty of GPR is that the technology gives off less radiation than a cell phone.
GPR one of the most reliable and valuable tools when investigating objects within concrete structures. Its precision and non-intrusive scanning capabilities make it the preferred choice. When locating hidden items like rebar and power lines, the technology can be helpful for workers and crews. Like all tools, it does have some limitations, depending on the specific goal and how deep the users need to look.
The infrastructure being inspected will determine the type of equipment required for the job. GPR is ideal for looking 9 in. deep into the ground or into an 18-in. thick bridge deck.
Although GPR cannot differentiate between different types of embedded items, such as rebar post-tension cables, it is highly effective in examining concrete slabs. This makes it a crucial tool for the country's ongoing infrastructure efforts.
Whether you're just starting out in the industry or are a seasoned professional, this infographic — created by Concrete Contractor — provides the at-a-glance ability to quickly understand the Importance of Ground Penetrating Radar and its applications. (Downloadable PDF)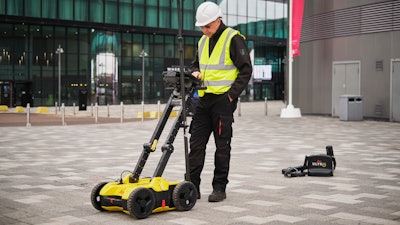 Inaction Is A Costly Mistake
The dangers of drilling into a concrete slab without verifying what's hidden inside are endless. Teams that don't scan might hit utilities, rebar, or post-tension cables embedded in concrete slabs. Aside from the potential risk of injury to those on the jobsite, such a mistake could be costly.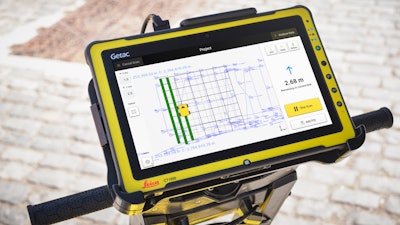 A project could easily have 20 cores to drill on a jobsite. To tackle the work, contractors often subcontract the job. However, if they bought a GPR unit and trained the project team to scan, it could scan those cores in a day and save tens of thousands of dollars in the process by not hiring an outside vendor.
Step one: Confirm the situation. Before doing any work, the best first step upon arriving on the jobsite is to determine the type of slab—rebar, hollow core, a metal pan deck, etc.—that will be drilled. For example, if it's an elevated slab, walk underneath it and examine it from below, giving an idea of its type.
Then, the team can start to paint a picture of what might be embedded inside the concrete.
Step two: Take a long scan. When it's time to scan, one of the best practices is to do a nice long scan when arriving on the site because that will provide an overview of how the rebar is positioned. Typically, rebar is laid in a pattern unless it's an old building, such as some early 20th century buildings.
Because nothing on the jobsite should be taken for granted or assumed, doing so will help teams understand the pattern—for example, a 6, 12, or 18-in. center—before digging or drilling.
Step three: Mark the rebar and other potential dangers. Using GPR to mark rebar is extremely easy, particularly when it's placed in an orderly fashion. Scanning in both directions—north, south, east, and west—quickly reveals the grid pattern.
The best practice is to scan and mark out every three to five inches. That might result in placing four or five marks when scanning a three-foot-by-three-foot area. Then, using a straight edge, connect the lines and mark the rebar's likely location before drilling is possible.
In addition to marking the rebar, mark any anomalies on the surface of the concrete. For example, an anomaly running in a diagonal direction might be a conduit for a utility embedded in the concrete.
Remember, "When in doubt, mark it out."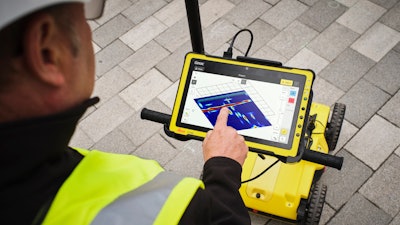 Keep It Calibrated & Updated
Like any tool, GPR needs to be cared for and protected. That includes calibrating it regularly, which requires users to mark out 5 or 10 ft. on the ground and scan it. This calibrates the antenna and is only needed roughly once every six months. Just as a desktop office software suite needs an upgrade occasionally, GPR also needs updates to ensure it operates properly.
While GPR's prevalence grows as prices fall and contractors become less tolerant of mishaps and utility strikes, it's important to remember that the tool has some limitations. For starters, GPR is not like a hammer one team member can pass to another; anybody can use it, but it requires training. Learning a tool's ins and outs and nuances requires using it every day or multiple times a week.
However, its pros outweigh the cons and solutions like GPR can help reduce the dangers facing teams. Hitting a utility accidentally can be a significant cost to an organization's bottom line, increasing the cost of damage. Companies should recognize that hitting buried utilities or rebar isn't "the cost of doing business." It's completely avoidable with some easy preparation before jumping into the project.
In evaluating whether to invest in a piece of technology, contractors should consider their liabilities and the potential costs of not investing. GPR could save them time, money, the need for rework, and, most importantly, lives.