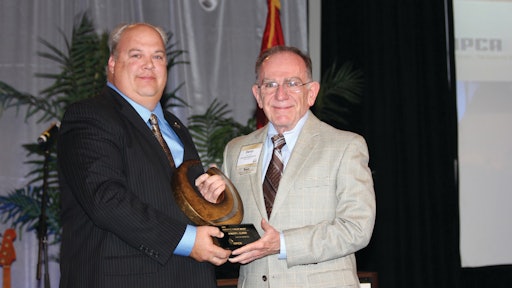 On Saturday, Oct. 15, Darryl Cloud was honored at the National Precast Concrete Association's (NPCA) 46th Annual Convention in Coeur d'Alene, Idaho. Cloud was bestowed the Robert E. Yaokum Award, the Association's highest award.
Selflessness and dedication are two characteristics that define Darryl Cloud. At age 17, he enlisted in the Marines to serve his country in Vietnam. At age 51, after watching his kids complete marathons, he took up running and completed his own marathon by age 55. He is an active donor and volunteer for many charitable causes, and he's also spent 21 years working for the same company.
Service has been a central theme throughout Cloud's life, whether it's service to his country, those in need, his employer or the industry as a whole. Since coming to Concrete Sealants, an Ohio-based NPCA member company that manufactures sealants, primers, wraps and coatings for precast concrete products, Cloud has left an indelible mark on his colleagues and his customers.
As a dedicated NPCA member, he has also applied his ethic of service to the Association. He served on the Board of Director's from 2003-2006 and currently is a member of the Onsite Wastewater Product Committee.
Cloud accepted the award to a standing ovation, and in a brief speech said, "I've considered everyone in this room an extension of my family. This is a huge honor. It's just a real privilege to get up and look forward to going to work, not only for the company I work for but for the industry I've been a part of."