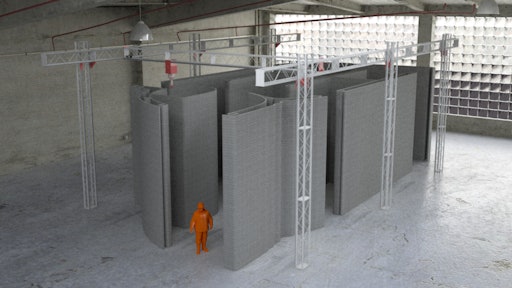 COBOD
Construction 3D printing company COBOD International has signed a distribution agreement with PERI Group, a leading company in the German, Swiss and Austrian construction markets. Through the agreement, customers in those three regions will be able to rent COBOD 3D construction printers from PERI.
To mark the distribution agreement, the two companies are presenting together at construction machinery tradeshow bauma in Munich from April 8-14, where they plan to introduce COBOD's large-scale 3D printing technology to the global industry, opening up potential opportunities for the Danish company.
At bauma, COBOD also introduced its second-generation concrete 3D printer, the BOD2. Compared to its predecessor, the BOD2 is faster (printing at 1000 mm/s) and modular, which means COBOD can modify the system's size depending on the interests of the customer.
Interest in 3D printing stems from concrete's environmental impact. According to engineering.com, concrete's carbon footprint accounts for about 5 percent of the world's emissions. About half of these emissions stem from the chemical process of calcination, in which limestone is heated to produce calcium oxide and CO2. The energy used to generate that heat accounts for another 40 percent of emissions, while the remaining 5 to 10 percent comes from the additional equipment needed to make and transport the material.
By 3D printing the concrete for the BOD building, engineering.com says COBOD is able to reduce the carbon footprint of construction in that typically only the material required to build the structure, including its hollow walls, is used and little wasted cement is generated. Moreover, only 32 percent of the total material mixture is made up of cement, while 23 percent is made from recycled roofing tile, 18 percent sand and 18 percent gravel.