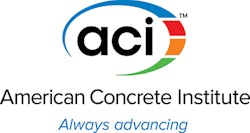 FARMINGTON HILLS, MI (September 29, 2011) -- The American Concrete Institute (ACI) will broadcast four live Webinars from the ACI Fall 2011 Convention in Cincinnati, OH.  CEUs and PDHs may be earned when participating in any of the following Webinars:
Saturday, October 15- 1:00 PM – 5:00 PM EDT Concrete Sustainability Forum IV—FREE
Sunday, October 16- 2:00 PM – 5:00 PM EDT Understanding the Implications of Green Building Codes and Standards on the Concrete and Masonry Industries
Tuesday, October 18- 9:00 AM – 12:00 PM EDT ACI 301—Bridging Codes and Specifications
Wednesday, October 19- 2:00 PM – 5:00 PM EDT Promoting the Planning, Design, and Construction of Sustainable Infrastructure: The Institute for Sustainable Infrastructure's envision Sustainability Rating System
The Concrete Sustainability Forum IV is offered free of charge and the remaining three Webinars may be purchased individually or as a discounted bundle. ACI will email a certificate of completion to each registered Webinar attendee that meets the certificate criteria. For more information visit: http://www.concrete.org/Convention/Fall-Convention/Webinar.htm
The ACI Fall 2011 Convention will take place October 16-20, 2011 in Cincinnati, OH, USA, at the Millennium Hotel and Duke Energy Convention Center. Interested individuals can still participate in the 300+ committee meetings, 30+ technical sessions, and networking events offered at the convention by registering on-line prior to October 3, or registering onsite. 
For more information on the ACI Fall 2011 Convention, please call 248-848-3795 or visit www.aciconvention.org.