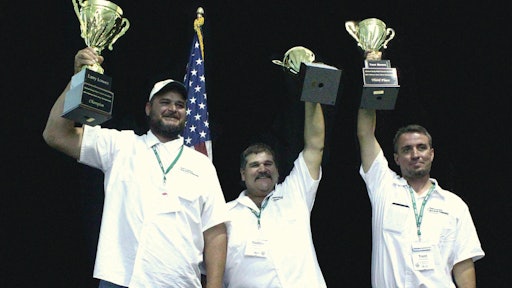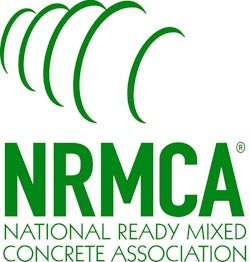 SILVER SPRING, MD (October 17, 2011) -- Mixer truck driver Larry Lowe from Oklahoma earned top honors at this year's NRMCA National Mixer Driver Championship held last month in San Diego in conjunction with NRMCA's ConcreteWorks. Lowe of GCC Mid-Continent Concrete Company in Sallisaw, Okla., also earned the champion's check of $2,500. Lowe has been driving a ready mixed concrete truck for GCC Mid-Continent Concrete Company for 12 years. He currently drives a Kenworth 4-axle truck with a McNeilus rear discharge mixer. He is an NRMCA Certified Concrete Delivery Professional and Smith System trainer, and is the reigning Arkansas Ready Mixed Concrete Association Mixer Driver Champion.
Now in its sixth year, this year's national contest "was the closest competition to date," according to NRMCA Senior Vice President of Operations and Compliance Gary Mullings. Twenty-four drivers, which included state rodeo champions as well as NRMCA member company champions from around the nation, competed to be the "Best of the Best". The champion was selected based on a cumulative score derived from competitions that included a driving challenge course, visual vehicle inspection, reaction-time test and 2-hour written examination. Awards were presented for the top three finishers, with all other drivers tied for fourth. Click here to view a video of this year's event. 
Second place and a check for $1,000 went to Chris Daniels of Irving Materials Co., Nashville, Tenn. He has been driving a mixer for Irving Materials for six years, and is currently driving a Terex Advance front discharge mixer truck. Daniels is the 2011 IMI Corporate Rodeo Champion. Third place and a check for $500 went to Trent Slavens of Irving Materials Co., Frankfort, Ind. He has been with Irving for more than nine years and is also driving a Terex Advance front discharge mixer truck. Slavens was the returning NRMCA's 2010 National Mixer Driver Champion.