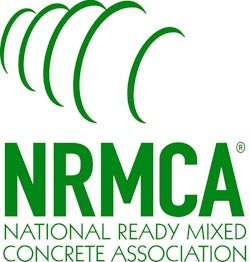 SILVER SPRING, MD (November 2, 2011) -- The Operations, Environmental & Safety Committee (OES) of the National Ready Mixed Concrete Association has named Charles Schumacher, product sales manager ready mix equipment for Schwing America, its 2012 Joseph E. Carpenter Award recipient. Schumacher was honored for his longtime commitment to the OES Committee and the ready mixed concrete industry. He began his professional career with Rexworks Inc. in 1973, serving in various positions, including product manager, vice president of the parts division, vice president of national accounts and senior vice president of the mixer division. Since 2000, Schumacher has been employed at Schwing America where he is responsible for truck mixer sales.
He is a longtime member of the OES Committee and is credited with the establishment of NRMCA's Driver of the Year Award. He has hosted an OES Committee spring meeting with a tour of the Schwing facilities as well as a ride and drive session. Schumacher has been a longtime exhibitor at past OES Forum & Expos and under the current ConcreteWorks title and served as a judge for NRMCA's annual Driver of the Year contest and NRMCA's National Mixer Driver Championship.
He is a past member of NRMCA Board of Directors, former chairman and vice chairman of the Truck Mixer Manufacturers Bureau, and former chairman and vice chairman of NRMCA's Manufacturers Division.
This award is named in honor of Joseph E. Carpenter of Rinker Materials, West Palm Beach, Fla., who was instrumental in the formation and early operation of the NRMCA Committee on Maintenance, the predecessor to the OES Committee.  The award was instituted in 1988 and is presented annually to person(s) who have demonstrated outstanding lifetime contribution to the ready mixed concrete industry in the fields of maintenance, environmental and safety. The award will be presented to Schumacher at the 2012 NRMCA Annual Convention in Savannah, Ga., in March.