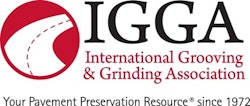 The International Grooving and Grinding Association (IGGA) – a non-profit organization dedicated to serving as the leading promotional and technical resource for acceptance and proper use of diamond grinding and grooving as well as pavement preservation/restoration - has announced the election of new board members and a slate of officers for the 2012 year.
The officers for 2012 are as follows:
President: Alex Ugalde of Hilti North America (Tulsa, Okla.)
Vice President: Tom Bonness, Jr. of CPR, Inc. (Elkhorn, Wis.)
Secretary: Jake Steinberg of Construction Materials (Minneapolis, Minn.)
Treasurer: Scott L. Eilken of Quality Saw & Seal (Bridgeview, Ill.)
Past President: Jenne Imholte-Decker of Simplex Construction Supplies (Minneapolis, Minn.)
Director: Jerry Voigt of American Concrete Pavement Association (Rosemont, Ill.)
International Director: Charley Grady of Crafco (Chandler, Ariz.)
With more than 13 years of experience in the concrete paving industry, Ugalde has expertise in all areas of concrete pavement preservation, service oriented drilling and sawing and customer service in a diamond blade manufacturing facility. Working for Hilti North America since 2010 in the pro-contractor segment, he was a regional sales representative for Diamond B., Inc. for 11 years prior.
Ugalde has been a member of the IGGA for the past 13 years, serving three years on the Board of Directors. "The IGGA and industry have seen some very positive changes in the last 10 to 15 years, all of which have allowed our group to grow the CPR and diamond grinding markets. One change that has become a constant is the increased promotional efforts from the membership in support of the industry," said Ugalde.
Ugalde said his goal for the 2012 year is to keep the association moving in a positive direction in line with the industry's needs. He intends to work closely with the Association's members, Board of Directors, committee chairs, and consultants to aggressively pursue research and promotional initiatives, which will help move the industry forward in growing more market share. "As the entire CPR industry is represented by the IGGA, it is very important to make sure that all IGGA members' investments of time and money are being represented equally in the promotion of our products," said Ugalde.
Ugalde holds an Associate of Arts degree from Blue Mountain Community College and a bachelor's degree from Utah State University.
Companies in this article