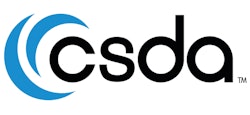 Not only did the Concrete Sawing & Drilling Association (CSDA) have record-breaking attendance for three training courses held at the 2014 World of Concrete exhibition, the association also reached a milestone of 4,000 graduates through its training program.
Following a successful first appearance at World of Concrete (WOC) last year, a CSDA Concrete Polishing class was held during this year's show in Las Vegas. Attendance leapt to 34 students from 19 the previous year — a 79% increase.
"We had an amazing response to our 2013 class and I had received quite a few inquiries about the next one, so this number was not a complete surprise," explains Andy Bowman, CSDA's lead polishing instructor. "With the introduction of CSDA's Standard for measuring concrete micro surface texture (CSDA-ST-115) and other polishing contractor resources, we are building a lot of momentum in this industry."
CSDA also held an Estimating class and a Wall & Hand Sawing 101 class at the show. Estimating recorded its highest WOC attendance figure with 18 students and Wall & Hand Sawing 101 had 11 students, representing the second-largest attendance for a CSDA hands-on class at this event. Since 2010, the association has had over 150 students graduate from courses held at WOC.
"CSDA is extremely pleased that an increasing number of contractors are investing in the CSDA Training Programs. To reach 4,000 graduates is a huge accomplishment and is a testament to all the hard work and dedication shown by our Board, committee members, instructors and staff over the years," says CSDA executive director Patrick O'Brien. "It was fantastic to see such great attendance figures for our WOC training courses and we had very positive feedback about all three."
Launched in 1993, the CSDA Training Program currently consists of 33 hands-on, classroom and online courses. Successful business owners realize that by investing in employee training programs, they are sending the message that they are committed to the professional growth of their employees. In these times of high turnover and competition, it is vital to hold on to competent personnel, so industry professionals in the concrete cutting and polishing industries are encouraged to invest in the CSDA Training Program.
For more information about upcoming training courses, visit www.csda.org, e-mail [email protected] or call 727-577-5004.
Companies in this article