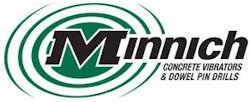 Minnich Manufacturing welcomes ACE Cutting Equipment & Supply to their extensive dealer network to service the Detroit, Mich. area and surrounding markets. ACE Cutting & Supply officially joined the dealer network in late 2013.
For over 20 years, ACE Cutting Equipment & Supply has served the Detroit area contractors with concrete saws and accessories and is now expanding their product offering by bringing on the entire Minnich dowel pin drill and concrete vibrator lines.
"This is just another opportunity for us to provide the necessary tools to the contractors we work with in this area," explains Ron Measel, owner of ACE Cutting Equipment. "Concrete saws and dowel pin drills go hand in hand when it comes to road work, and thanks to the incorporation of Minnich products, we can now be a one-stop shop for our customers."
According to Todd Jurjevic, sales and marketing director for Minnich Manufacturing, the new found partnership means that Minnich products will be represented by a trusted, family-owned dealership. "One of our core values as an organization is integrity," explains Jurjevic. "We strive to provide a high level of integrity across the board, and that includes our products, our employees, and our dealers."
ACE Cutting Equipment is a 100 percent American owned and operated family business that offers over 100 years of combined team experience in the concrete and masonry industry.