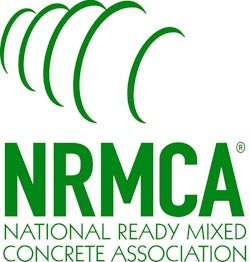 The Manufacturers, Products & Services (MPS) Division of the National Ready Mixed Concrete Association has awarded the 2015 Concrete Cares Award to two producer members of the association, Central Concrete Supply Co., Inc. a California business unit of U.S. Concrete Inc., and Kearney Concrete located in Kearney, Neb. This is the first time in the five-year history of the award program that dual winners have been honored for their exceptional charitable contributions to their respective communities.
Kearney Concrete earned honors for NRMCA producer members that produce less than 250,000 cubic yards of ready mixed concrete each year. The company was recognized for supporting cancer-related organizations, which ultimately lead to the creation of the non-profit, statewide organization, Concrete Cares of Nebraska. In the summer of 2013, Stan and Kyle Poff of Kearney Concrete worked with local companies to paint and install Concrete Cares ribbons on each ready mix truck in Kearney's fleet. Later that year, they called on the Nebraska Concrete and Aggregates Association for help in promoting a community event called Concrete Cares.
With no formal committee or structure, the 2013 event was a great success and lead to the formation of Concrete Cares of Nebraska. In September 2014, the event expanded toward offering family oriented activities, live music, food and a car show, all sponsored by local businesses. To date, Concrete Cares of Nebraska has raised nearly $10,000 to help cancer patients and their families in Nebraska.
Central Concrete, located in the San Francisco Bay area, was selected in the over 250,000 cubic yard category for its innovative community outreach program called "Central Cares." The program encourages employees to nominate charitable organizations that they are personally committed to for inclusion in the company's annual giving program. Team members making nominations have to demonstrate a vested interest in the charity and agree to take a leadership role in developing and managing the fundraising program. Fundraising programs included a double elimination softball tournament, annual golf tournament, silent auctions, a Touch-a-Truck event and a ready mix truck power pull.
In 2014, 21 charitable organizations in the San Francisco Bay Area received support from Central Concrete and its employees, including Special Olympics, the Make-A-Wish Foundation, the Leukemia and Lymphoma Society, local food banks, local veterans organizations and area boys and girls clubs, just to name a few. Learn more at www.centralconcrete.com.
The MPS Division will make a $1,000 donation in the names of each company to be used for the charities of their choice. They will receive their awards during NRMCA's Annual Convention in Orlando, Fla. Click here for more information on the Concrete Cares Award.