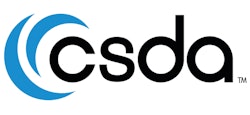 While attendance for this year's World of Concrete (WOC) reached almost 56,000, a 15 percent increase from 2014, CSDA also had increased participation for one of its three show-based training classes. The association's Estimating class had 25 students—up from 18 the previous year. Launched in 2003, Estimating covers the function of an estimator in the concrete cutting industry and has graduated 235 students to date.
"It is extremely encouraging to see so much interest in the Estimating class again," says Pat Stepanski, who together with Lee Aitken has taught the class for the past 12 years. "This is a good sign that work loads are starting to pick up throughout the industry. Contractors want to price their work correctly and increase their bottom line, so we are happy to give them the tools they need to do that."
Elsewhere at the show, Rick Norland, the association's lead training instructor, gave a 90-minute CSDA-sponsored seminar on Maximizing Efficiency of Concrete Structure Modification/Demolition. Attendees learned how to strategically combine impact breaking and crushing with concrete sawing and drilling techniques to maximize efficiency of removing or modifying concrete structures. Norland will give an encore presentation during CSDA's 43rd Annual Convention & Tech Fair, which will be held March 31 to April 2 in St. Petersburg, Florida.
Another popular CSDA event was the Next Generation Reception, hosted at the Renaissance Las Vegas Hotel. For the second year running, the reception drew a good crowd and gave up-and-coming industry leaders the chance to network with peers in a relaxed, informal environment. It is sure to reappear on CSDA's schedule for WOC 2016.
A 39-year co-sponsor association of WOC, CSDA exhibited in Central Hall of the Las Vegas Convention Center and had more interest in its industry programs and resources than in recent years. As a result, several companies made the decision to join CSDA during or shortly after the show, which was more than the previous two years combined. Meanwhile, existing manufacturer, distributor and affiliate members filled close to 40 booths—up from last year—as the show's exhibit space covered more than 675,000 net square feet.