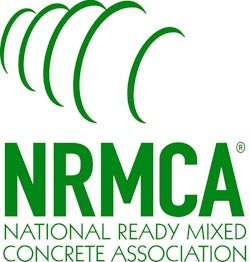 The National Ready Mixed Concrete Association presented the following awards during its annual convention held earlier this month in Orlando, Fla.
2014 William B. Allen Award – Bill Geiger of Geiger Ready-Mix is the recipient of the Allen Award. He began working in the family's ready mixed concrete business since he was 12 years old and has led Geiger Ready-Mix for 47 years. The company has grown to encompass seven plants at five locations and a fleet of 120 mixer trucks to serve the great Kansas City metropolitan area. He is a strong proponent of practicing the "Geiger Way," which defines the company's purpose as "adding value to the lives of our customers, employees and suppliers in a positive and professional manner." The company has grown aggressively from the recession of the past few years and has positioned itself to be led by the family's third generation as a ready mix supplier. On the philanthropic front, Geiger's generosity with his time and money has touched many people through many organizations over many years.
The Allen award is named after one of the ready mixed concrete industry's most distinguished and accomplished figures, Bill Allen, who had more than 55 years of concrete and aggregates-related experience and had long been involved with many NRMCA activities and events.
NRMCA Chairman's Award – This award is given in appreciation of extraordinary dedication to NRMCA. This year, Gary Mullings, NRMCA senior vice president of compliance and operations, is the 2015 Chairman's Award recipient. Gary has worked for the Association for 41 years; he currently manages the activities of the NRMCA Operations Environmental and Safety Committee. In this role he administers educational programs, awards programs and develops guidance on regulatory compliance for the industry. He advocates for the industry on regulations governing plants, trucks, safety and environmental management practices. He spent a large portion of his early career at NRMCA at its Research Laboratory in College Park, MD.
Gary is the primary instructor of the NRMCA Technical Short Course, the plant manager, environmental and safety courses, and delivers a wide range of Webinars on current issues impacting the industry. He administers the popular annual NRMCA Mixer Driver Championship and manages the fleet benchmarking survey, the safety, environmental excellence and fleet graphics award programs, and manages the NRMCA Green-Star Plant Certification program. Gary has also been the recipient of the Joseph E. Carpenter and the Richard D. Gaynor award for his service to NRMCA member companies and the industry at large.
National High School Essay Contest – This year's winner of the National High School Essay Contest is Savannah Forbes of Washington State whose essay dispelled the preconceived notions of concrete as gray, dull and boring. Through her research Savannah learned that concrete is durable, sustainable and versatile, attributes that lend themselves to all the beautiful decorative concrete solutions available today. Ms. Forbes received a college scholarship check in the amount of $2,000.
2015 Promoter of the Year – Theron Tobolski of Prairie Materials was named NRMCA Promoter of the Year. This award recognizes outstanding concrete promotion contributions by an employee of one of NRMCA's Producer member organizations. Prairie Materials serves parts of Illinois, Indiana and Wisconsin. Tobolski's noteworthy accomplishments over many years of excellent service to our industry include:

The successful introduction of Roller Compacted Concrete (RCC) in the Chicago area that has accounted for 40,000 cubic yards since 2009. RCC was thought by many to be an unsuitable product for a northern climate, but in large measure because of his efforts that misconception has been significantly dispelled in the Midwest.
A central role in promotion and successful placement of Chicago's "Green Alley" program, including primary influence in the mix specification.
A number of Tobolski's successful high-profile project achievements have been covered in a half dozen prominent public works and concrete industry magazines in recent years, including several cover stories.
NRMCA State Affiliate Promoter of the Year – The NRMCA Promotion Committee has recognized Jereme Montgomery of the Nebraska Concrete & Aggregates Association (NCAA) as the State Affiliate Promoter of the Year. The award recognizes outstanding concrete promotion contributions by an employee of one of NRMCA's State Affiliate partner organizations. Montgomery's recent noteworthy accomplishments include:
Parking lot market share: Starting in 2006, the NCAA started surveying Nebraska's 10 largest counties to establish concrete market share for new construction. With the exception of the first year, Nebraska's concrete market share has increased every year and has recorded an astounding 96 percent in 2012 and 2013.
Pervious concrete: Few have established a better quality assurance program for producing and placing pervious concrete than Nebraska. Since 2009, Nebraska has established quality control measures to ensure that the hardened "in-place" void content is predictable. If you can predict the in-place void content, you can also predict infiltration, strength and, most importantly, density.
2014 State Association of the Year – The California Construction and Industrial Materials Association is the winner of the 2014 State Association of the Year Award. Among CalCIMA's accomplishments last year was the creation of the "Distance Matters" advocacy tool in support of the idea that local suppliers of materials provide the greatest environmental benefit for the state. A Web site, pamphlet and fact sheet explains how greenhouse gases are reduced with local material supplies. CalCIMA also initiated the development of a specification with the California Department of Transportation and the California Department of Measurement Standards to allow use of returned plastic concrete. The final product will include an environmental benefits document, specification and protocol certification. Also in 2014, CalCIMA sponsored legislation to require local governments to adopt standards for recycling of materials at least equal to state standards. This will help concrete producers who encounter local governments that don't want to use recycled aggregate or other materials in concrete. The legislation was signed into law.
Richard D. Gaynor Award – NRMCA's Research Engineering & Standards (RES) Committee selected Dr. Nicholas J. Carino as the recipient of the 2015 Richard D. Gaynor Award. The award is named Richard D. Gaynor who served as NRMCA executive vice president when he retired in 1996. The Gaynor award recognizes individuals who have shown excellence, through their personal dedication and devotion, and have made significant contributions to the ready mixed concrete industry in the areas of research, engineering and standards.
Dr. Carino is a concrete technology consultant based in Cleveland and an affiliated consultant with Wiss, Janney, Elstner Associates, Inc. Dr. Carino graduated with a BS, MS and PhD from Cornell University. He was an assistant professor at The University of Texas at Austin from 1974 to 1979. He retired from the National Institute of Standards and Technology (NIST) in 2004, where he held the position of research structural engineer since 1979. He is an active participant in standards organizations and a strong proponent of performance-based requirements for concrete. Dr. Carino is a world-renowned expert on non-destructive testing of concrete, primarily on the maturity method and other methods to evaluate the in-place strength of concrete and the impact-echo for detection of flaws. He has written many research papers and is a principal author of the Handbook on Nondestructive Testing of Concrete. Dr. Carino worked closely with Dick Gaynor to establish appropriate requirements for specifying and testing high-strength concrete. His attention to detail is legendary and has resulted in significant improvements to new and existing standards that are vital to the ready mixed concrete industry.
Joseph E. Carpenter Award – The 2015 NRMCA Joseph E. Carpenter Award was presented Greg Vickers, general manager of Monumental Concrete Co., Washington, DC. This award is named in honor of Joseph E. Carpenter of Rinker Materials, West Palm Beach, Fla., who was instrumental in the formation and early operation of the NRMCA Committee on Maintenance. The award was instituted in 1988 and is presented annually to person(s) who have demonstrated outstanding lifetime contribution to the ready mixed concrete industry in the fields of operations, environmental and safety.
Vickers was named the award recipient for his longtime commitment to the OES Committee and the ready mixed concrete industry. He has worked more than 35 years in concrete-related industries, starting with several years of service at Miller & Long Co., the Washington, DC, area's largest concrete contractor. He later served as quality control manager for NRMCA member company Tarmac America in Virginia (now doing business as Titan America) and in equipment sales roles for Bering Truck Corp., Schwing America, Inc. and Blasters Ready Jet, Inc. Mr. Vickers has also worked for Continental Mixers/ Navistar where he was the company representative to the Truck Mixer Manufacturers Bureau.
He also lead NRMCA's Operations, Environmental and Safety Division for three years during the late 1990s, credited with many successful projects during those years, including the launch of the annual Fleet Benchmarking Survey and the revised Annual Safety Contest. He returned eight years later, taking the lead staff role for the National Mixer Driver Championship and as the primary developer of the NRMCA Fleet Managers Course. He also has on numerous occasions volunteered his time as a speaker at various NRMCA training courses, including Short Course, Plant Manager Course, Dispatcher Course, Fleet Manager Course and Plant Manager Course.

Children's Art Contest – The contest was open to children up to grade 12 who have a relationship with an NRMCA member. The award program was co-sponsored by NRMCA and the Truck Mixer Manufacturers Bureau under the theme Sustainability: The Future of Ready Mixed Concrete. The winners were as follows:
Pre-K - K:
1st: Keney Skulick, sponsored by Tony Skulick, CEMEX, Cameron Park, Calif.
2nd: Oliver Kingery, sponsored by Calvin Kingery, Irving Materials Inc., Carmel, Ind.
3rd: Olyver Housman, sponsored by Dan Housman, Ozinga Ready Mixed Concrete Inc., St. John, Ind.
Grades 1-3:
1st: Bryn Housman, sponsored by Dan Housman, Ozinga Ready Mixed Concrete Inc., St. John, Ind.
2nd: Cade Skulick, sponsored by Tony Skulick, CEMEX, Cameron Park, Calif.
3rd: Bella McCollum, sponsored by Bill Childs, Chaney Enterprises, Chesapeake Beach, Md.
Grades 4-6:
1st: Ashlyn Skulick, sponsored by Tony Skulick, CEMEX, Cameron Park, Calif.
2nd: Luke Killingsworth, sponsored by Brian Killingsworth, NRMCA, San Antonio, Texas
3rd: Maximus Ortiz, sponsored by CalPortland, Chino Hills, Calif.
Grades 7-12:
1st: Molly Werk, sponsored by Samuel Justice, CEMEX, Birmingham, Ala.
2nd: Aidan Willett, sponsored by Florriene Anthony, CalPortland, Puyallup, Wash.
3rd: Victoria Lenzi, sponsored by Loren Dean Lenzi, CalPortland, North Las Vegas, Nev.
NRMCA is celebrating its 85th year of representing the producers of ready mixed concrete and the companies that provide materials, equipment and support to the industry. It conducts education, training, promotion, research, engineering, safety, environmental, technological, lobbying and regulatory programs. Learn more at www.nrmca.org.