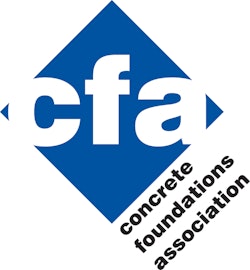 The Concrete Foundations Association (CFA) announces the installation of seven members to the Board of Directors.
During their annual meeting, held last month at the CFA Convention 2015 at the Williamsburg Lodge in Williamsburg, Va., executive director James Baty announced that members had voted to continue the terms for four board members and elect three new members to the Board of Directors from the slate of candidates offered during electronic ballot. Ken Kurszewski of Hottmann Construction in Dane, Wis. and Mark Irving of Irving Equipment LLC in Tiffin, Ohio join the board for three-year terms, and Lindsay Castles of GMX, Inc. in Cleveland, Ohio joins the board for a two-year term. They join a re-elected group of members including Sean Smith of MPW Construction Services in Wellington, Ohio and Doug Herbert of Herbert Construction in Marietta, Ga., both for their second terms; Phillip Marone of Marone Contractors in Thorofare, N.J. for his third term; and Dan Bromley of ABI Corporation in Lee's Summit, Mo. for his sixth term. Current CFA president, David Martinson of Martinson Construction in Waterloo, Iowa received an automatic extension for his fifth term to complete his presidency and role as chairman to the Board.
Ken Kurszewski, President of Hottmann Construction Company, begins his first term on the CFA Board. Hottmann is well known to the industry for their awe-inspiring foundation projects including the 2014 Overall Grand Project of the Year. Hottmann has served the south central Wisconsin market for more than sixty years. They are a company dedicated to innovation and have been asked to complete foundations for clients as far away as New York due to their quality of craftsmanship and innovative success.
Mark Irving, Sales Office Director for Irving Equipment, LLC joins the CFA Board as an elected National Associate representative. He has served previously on the National Associates' Council and has been a strong supporter and participant in CFA Conventions for many years. Irving Equipment has offered sales and service for quality concrete placement equipment for decades.
Lindsay Castles, Vice President of GMX, Inc. at The Garland Company, Inc. joins the CFA Board as a National Associate representative to expand the Board and representation for that category of membership. Formerly an owner of DryDog Barriers prior to their acquisition by GMX, Lindsay has been a prominent personality in the CFA. He brings a strong focus on development for southeastern foundation companies to the Board as his emphasis.
The newly elected board members, Ken Kurszewski, Mark Irving and Lindsay Castels join these existing board members:
President – David Martinson, Martinson Construction
Vice President - Dennis Purinton,Purinton Builders Inc.
Secretary – Phillip Marone, Marone Contractors Inc
Treasurer – Doug Herbert, Herbert Construction Company
Past President – Jim Bartley, Bartley Corp
Member – Dan Bromley, ABI Corporation
Member – Tom Brown, TJ Construction Unlimited
Member – Dan Buser, Dandee Concrete Construction
Member – Doug Doggett, Doggett Concrete Construction
Member – Jason Ells, Custom Concrete Company, Inc.
Member – Josh Esker, J B Esker and Sons Inc.
Member - Kirby Justesen, SCW Footings & Foundations, Inc.
Member – Mike Reed, Reed Concrete
Member – Sean Smith, MPW Construction Services, Inc.
Member – Andy Stachler, Stachler Concrete Inc.
Member – Mary Wilson, Michel Concrete Construction
Associate Rep – Tom Oury, Schwing America, Inc.
Leaving the Board after successful and dedicated terms were Valerie Gore of Solid Foundations in Bellevue, Ohio (6 years in recent term, 9 overall) and Craig Bradley of Cosella Dörken of Dundas, Ontario, Canada (3 years).