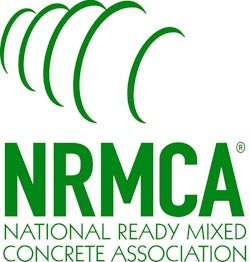 The Operations, Environmental & Safety Committee (OES) of the National Ready Mixed Concrete Association (NRMCA) has named Rickie Grooms, principal for Grooms Equipment/Petroleum Tec and representative for Continental Mixers, Burlington, N.C., its 2016 Joseph E. Carpenter Award recipient. The award is named in honor of Joseph E. Carpenter of Rinker Materials, West Palm Beach, Fla., who was instrumental in the formation and early operation of the NRMCA Committee on Maintenance. The award was instituted in 1988 and is presented annually to persons who have demonstrated outstanding lifetime contributions to the ready mixed concrete industry in the fields of operations, environmental and safety.
Grooms was named the 2016 award recipient for his longtime commitment to the OES Committee and the ready mixed concrete industry. A past OES Committee Operations Task Group Chairman, he has worked for 20 years in the concrete industry. As an equipment manufacturer, Grooms has continued to support NRMCA and the OES Committee by continuing his attendance at meetings and offering his financial support. He has always volunteered his time for many different projects for NRMCA and the committee, including providing equipment for every annual NRMCA National Mixer Driver Championship. He was also involved with developing the Fleet Manager Certification Course. He has also attended every NRMCA Fall Conference/ConcreteWorks event for the past 17 years. NRMCA OES Committee Chairman Jeff Hinkle affectionately notes, "As all of the old time members of the committee know, there is never a dull moment when Rickie is around!"
A former tracked vehicle mechanic with the U.S. Army/Army National Guard, Grooms has previously held the position of equipment manager for S & W Ready Mix Concrete and has worked as a sales manager and vice president of sales for Continental Mixers.
Rickie has been married for 25 years to his wife Tina. They have two children, Rickie and Courtney, and two grandchildren, Gracen Dale and Dawson Thomas. He's a member of Trinity Worship Center in Burlington, N.C., plays trombone, hunts, fishes and enjoys motorcycling.