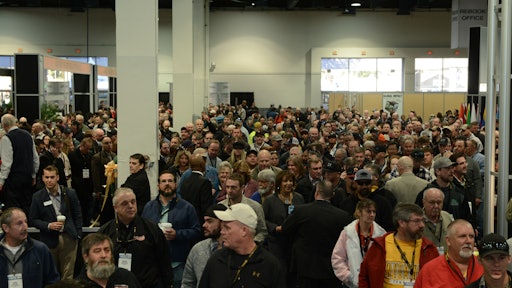 World of Concrete 2016 exceeded expectations across the board. This signature event for the concrete industry drew 60,110 registered professionals, up from 55,779 in 2015, and featured more than 1,532 companies exhibiting across more than 743,889 net square feet of space, an increase of more than 67,000 net square feet from 2015. This was the largest World of Concrete in seven years.
"We are very pleased with the results of the show in all categories from the increase in the number of exhibitors (up almost 300 companies) to the increase in attendees (up 8 percent) to the increase in the number of seminars taken (up 6 percent)," says Tom Cindric, Vice President, Informa Exhibitions U.S., Construction & Real Estate. "This helps solidify WOC as the event for concrete and masonry professionals. The positive energy was everywhere on the show floor, and is a boost to the entire industry indicating a strong year ahead."
"It was apparent that companies are bringing more of their crews to the show to gain valuable knowledge with our world-class education program and to experience the exhibit floor and outdoor exhibits filled with leading suppliers," notes Jackie James, Director, World of Concrete. "In addition, the international representation increased this year to 22 percent. This is a very positive sign that the industry continues to grow and thrive."
Highlights of the 2016 edition included the opening ceremony awarding the World of Concrete Legacy Award to recipient Ward Malisch. Malisch's work history has given him a wide perspective on the concrete industry. He taught at several universities; worked for the contractor that built Missouri's first nuclear power plant; joined the World of Concrete seminar staff; became editor in chief of Concrete Construction magazine; left to be director of engineering at ACI; joined the PCA as director of educational services; returned as editor in chief of CC; and back to ACI as senior managing director. Currently, he is the technical director for the ASCC, where he spends most of his time as a contractor advocate.
Also presented was the Weatherton Scholarship, providing funds to help the next generation of concrete professionals attending the CIM (Concrete Industry Management) Program. Jerhard Evangelista, from New Jersey Institute of Technology was the recipient of the $2,500 scholarship. In addition, CIM held its annual unreserved silent and live auctions at World of Concrete. The silent and live auctions raised an initial tally of approximately $900,000. More information on the CIM Program can be found at
www.concretedegree.com.
World of Concrete 2017 will be held January 17-20; Seminars 16-20 at the Las Vegas Convention Center.