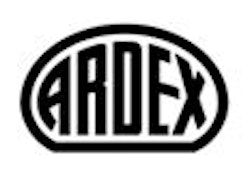 ARDEX Americas is proud to be recognized at The Starnet Commercial Flooring Design Awards as a preferred vendor for 10 winners, including five gold awards. Starnet is the world's largest network of full-service, independent flooring contractors, committed to the pursuit of excellence in the industry. The 20th Annual Starnet Design Awards recognizes outstanding commercial installations for their creative use of flooring, overall design and quality.
"We're honored to be involved in so many of their year's winning projects," says Robert Dalton, ARDEX Director of Customer Operations and Commercial Excellence. "Starnet contractors' commitment to installing exceptional floors mirrors ARDEX' dedication to providing quality products that deliver consistent results."
The 10 winning installations that named ARDEX as a preferred vendor included both ARDEX and HENRY products. HENRY, a division of ARDEX Americas, is a manufacturer of adhesives for all types of flooring installations. The five gold medal winners are:
ARDEX President Jesse David says, "ARDEX is proud of our long-standing partnership with Starnet, an organization dedicated to raising the bar in the flooring industry, and we look forward to many more years to come!"
For event information and a complete list of winners, visit www.designawards.starnetflooring.com.