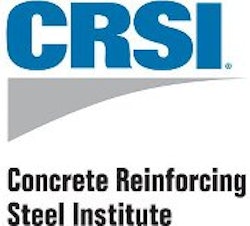 The Concrete Reinforcing Steel Institute (CRSI) announces the release of the Rebar Reference mobile app. It has been designed for use as a ready reference guide for common reinforcing steel data and information.
ASTM standard rebar specifications are provided including sizes, diameters, areas and weights along with typical hook details. Minimum yield and minimum tensile requirements per ASTM are also included. Industry standard bar markings for inch-pound rebar is illustrated for grades 40, 50, 60, 75, 80, 100 (A615), 100 (A1035), and 120.
Links to the Concrete Reinforcing Steel Institute's online offerings (Resource Materials, Rebar U, CRSI website) are also incorporated.
"We are excited to launch the Rebar Reference app as a step toward engaging our industry in new and dynamic ways," states Danielle Kleinhans, President and CEO of CRSI. "It's one of the methods we are utilizing to make our resources more accessible and useful."
Future releases will include steel mill bar marks and sizes, and a field inspection module including information on concrete cover, types of ties, tolerances and lap splices.
The app is available in the Apple App Store and Google Play Store for iOS and Android devices.