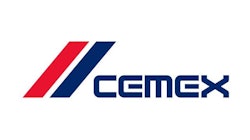 CEMEX USA ready-mix concrete continues to shape the growth of the Houston-metro area, supplying several construction projects in Memorial City, west of Houston, for developer MetroNational.
"Texas is growing rapidly, and with even more development expected in the next few years, CEMEX is well-positioned to meet the challenge of that growth," says CEMEX USA President Ignacio Madridejos. "We're proud our cement, aggregates and ready-mix have fueled the expansion of Memorial City for years, while enhancing the accessibility and aesthetics of the entire area."
Most recently, CEMEX supplied nearly 25,000 cu. yd. of ready-mix concrete for The McAdams, an eight-story, luxury mid-rise apartment complex that boasts more than 300 residential units and amenities including a rooftop, resort-style pool, a private rooftop pet park, a state-of-the-art fitness center and posh resident lounge.
In the past year, CEMEX also supplied 22,000 cu. yd. of ready-mix concrete for another MetroNational luxury building, The McCarthy, a high-rise apartment complex that is part of a 15-story building. The McCarthy's eight stories sit atop the Hotel ZaZa Memorial City, a 159-room boutique hotel. The entire building was just completed in 2018.
Other Memorial City projects include the LEED Platinum MetroNational Headquarters Treehouse Building, a LEED Gold building that houses CEMEX USA Headquarters, and Air Liquide Center. Within the last five years, CEMEX has provided more than 200,000 cu. yds. of ready-mix concrete for MetroNational projects.
"CEMEX USA is a long-standing and integral partner in the development and redevelopment of mixed-use properties across Memorial City," adds Jason Johnson, president of MetroNational.