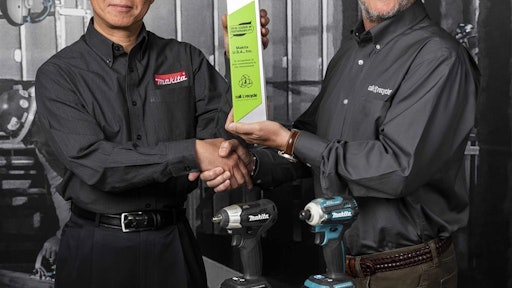 Makita USA

Makita USA Inc. has been awarded the Call2Recycle 2018 Leader in Sustainability Award for its outstanding battery recycling efforts.
Call2Recycle is the country's first and largest consumer battery recycling program. The Leader in Sustainability Award recognizes top performing program participants for their commitment to battery recycling. Makita's engagement contributed to the diversion of 7.2 million pounds of batteries from U.S. landfills through the Call2Recycle program in 2018.
"Makita's active participation in the Call2Recycle program underscores their work to encourage and promote sustainability," says Carl Smith, CEO and president of Call2Recycle Inc. "We're proud to recognize Makita as a leader in sustainability and spotlight their battery recycling contributions."
Since the mid-1990s, Makita has worked with Call2Recycle to develop new ways to collect, package, and ship used batteries at the end of their life cycle to recycling centers.
"As we deliver more and more battery-powered tools to contractors, we recognize the need to recycle batteries at the end of their life cycle," says Wayne Hart, communications manager, Makita USA. "Makita was one of the first power tool manufacturers to join Call2Recycle in these efforts, and we pioneered battery recycling programs through our service centers. Makita is proud of these efforts and remains committed to working with Call2Recycle on this important initiative."