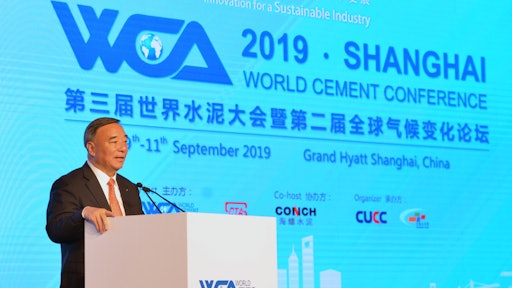 The World Cement Association (WCA) is urging the global cement industry to more effectively embrace decarbonization and to increase efforts to adopt new technologies faster and put greater focus on innovation in order to make crucial progress on reducing CO2 emissions.
This is the key message from the third WCA World Cement Conference that took place on the 10th of September in Shanghai, where WCA President Song Zhiping emphasized the importance of an industry-wide response to climate change.
Read next: UCLA Engineers Receive $1.5 Million Grant to Develop Environmentally-Friendly Concrete
"WCA supports a sustainable cement industry and encourages technical development and other steps to achieve full decarbonization" Song said.
Nearly 400 delegates heard how the cement sector is making great efforts globally to move to more sustainable production methods including the use of alternative
fuels and AI to improve energy efficiency and reduce emissions. Representatives from the leading international cement companies covered the worldwide industry outlook and provided the latest information on development in equipment and technology.
"What has been very positive is to see the enthusiasm among our members for sharing knowledge and best practice, and we also received positive feedback from delegates on both the conference organization and content of presentations," said WCA CEO Ian Riley. "We will continue to focus on being a platform for change, delivering concrete actions against the climate challenges of today and tomorrow."
Read next: Sustainability Must be on the Forefront for the Concrete Inudstry
In his keynote speech, President Song also emphasized the role of WCA as the voice of the global cement industry and praised WCA's unique founding principle of equal representation.
"All WCA corporate members have the same rights, whether large or small, whether from emerging economies or developed countries," Song said. "We aim to provide a platform where even the smallest producers have a voice and to offer practical services to help members improve their business through knowledge exchange and sharing of best practices."