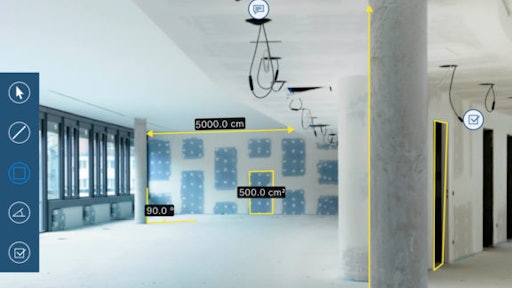 Mobile app: Bosch MeasureOn
Developer: Robert Bosch GmbH
Cost: Free
Available on: Apple and Android devices
Bosch MeasureOn is a multifunctional mobile app that enables users to document and manage site measurements and floor plans on one app. It was designed to work seamlessly with Bosch Bluetooth-enabled laser measures.
MeasureOn gives users a clear digital overview of all project details including floor plans, measurements, photos and notes. It is designed to accurately and easily transfer data, store images with measurements and notes, and create floor plans.
App features:
All measurements automatically saved with time and date
Picture mode – measured values can be transferred directly to pictures
Overlay measurements on photos
Measurement List – measured values are stored in one list that can be organized
Quick Sketch – quickly create simplified sketches that can later be adopted into detailed floor plans
Detailed plans – floor plan creation including wall view, room height, roof slope and area calculation
Wall view – document wall dimensions including roof slope, room height and objects
Notes, to-dos and audio memos
Share digital transfer measurements with co-workers or customers via email
Manage customer profiles and client projects
Available in 36 languages