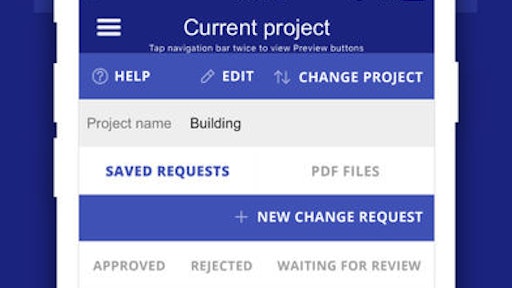 Mobile app: Construction Change Order App
Developer: Snappii
Cost: Free
Available on: Apple and Android devices
Need to create a quick construction change order request and send it to a supervisor for review? The Construction Change Order mobile app from Snappii is designed to do just that. Create change orders on the spot, make a list of supervisors, assign orders to supervisors, and track supervisor feedback and proposed changes.
VIDEO: Snappii Construction Change Order Mobil App Overview
Users can instantly fill in specific details and information including labor, equipment, parts, construction sites, date and timestamps, upload PDF documents, take pictures and more. The in-built calculator also allows users to estimate total hours and costs needed to complete a particular project. Users can also upload their own fillable PDF forms to collect specific information. These uploaded files are saved into the library of templates and are then available for reuse and sharing.
Orders created through the app are stored securely on the user's mobile device. The orders can be emailed, uploaded to cloud drives or printed in PDF form.
 App features:
Work on or offline
Sync completed orders across multiple devices
Track order statuses
Remake orders on demand
Make reviews and comment on them
Custom search by orders
Subscription-based version available for unlimited number of form submissions
App is customizable to meet specific needs