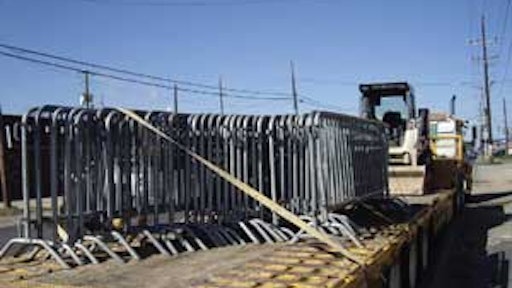 South Florida is well known for both its beautiful climate and - unfortunately for contractors - its high equipment theft rate.
Russell Engineering, Inc., a road and bridge builder headquartered in Fort Lauderdale with locations in Bradenton and Belleview, had finally had enough. After thieves stole several motor graders, wheel loaders, dozers and fuel trucks in recent years, the company opted to install Bulletproof Electronics' Heistproof anti-theft system to keep equipment secure. Such systems work through the use of telematics - the sending, receiving and storing of information via telecommunication devices.
In the year since the company installed the system on more than a dozen pieces of equipment, none have been stolen. "Thieves have tried, though," says Bob Glover, equipment manager. "We had two 2006 tri-axle dump trucks parked in our yard in Fort Lauderdale. Thieves broke into them and removed the ignition switches, but they couldn't get them started. It only cost us about $150 for each truck for new switches and door locks."
The Heistproof device uses a credit card-sized digital transponder card and Radio Frequency Identification (RFID) to identify authorized users, and shuts down a vehicle's operating system to unrecognized operators. In addition, GPS technology allows contractors to locate any equipment that leaves its geofence, or virtual perimeter, or travels at a speed that exceeds preset levels.
"If a thief is inclined to load a piece of equipment onto a trailer and haul it away, I would receive a text message and e-mail alert that lets me know equipment has left its geofence area and/or is going over its speed limit - which ultimately would tell me that it's loaded onto a trailer and has been stolen," says Glover. "I can go onto the computer and 'watch' it travel down the road. All I have to do is call the police."
Theft recovery ROI
Since it entered the construction market in 2000, LoJack Corp. estimates it has recovered more than $100 million in LoJack equipped stolen construction assets, plus the value of other non-LoJack equipped stolen assets. It has also saved contractors countless dollars in downtime, increased insurance premiums and contract penalties.
The location of additional stolen property during the recovery process isn't necessarily unusual. And equipment isn't always the only item lost.
For example, LoJack's Jeremy Warnick relates an incident involving construction equipment stolen from a rental store in Atlanta, GA. When the store owners realized the equipment was missing, they reported the crime to the police. Shortly thereafter, two police officers in Baton Rouge, LA, began picking up the silent LoJack homing signal from the stolen machine.
Within minutes, officers located the signal coming from a restaurant warehouse. They recovered the stolen equipment, along with 33 metal police barricades used for crowd control during Mardi Gras. That business owner was charged with possession of stolen equipment valued at $35,000 and possession of stolen property valued at more than $4,000.
A better way to manage assets
The use of telematics to prevent theft is a growing trend among contractors to keep fleets secure. But it's not the only benefit of telematics. Asset management features can also enable users to increase asset profitability and productivity.
Using Heistproof's KIM (Knowledge is Money) system, Glover is able to monitor equipment run times to determine whether employees are indeed working when they say they are. The system can also track maintenance needs and alert equipment operators when, say, an oil change is due. "If I need a mechanic to work on a piece of equipment, I can also easily direct him to its location," he adds.
Asset management is an important reason Ferreira Construction, a large heavy highway, road and bridge construction company in New Jersey, installed LoJack LoCate devices on 64 pieces of equipment, ranging from wheel loaders and excavators to dozers, backhoe-loaders, skid-steer loaders and compact excavators. It also has LoJack anti-theft devices on several of its compressors and trucks.
The LoCate system has changed the way John Pereira, equipment manager, manages the company's equipment fleet, which is spread out over jobsites in the company's home state, as well as in New York and Florida. His morning begins by logging onto his computer to track hour usage of each machine. "I can tell how many hours each piece has until it needs service," he says. "Then I can easily dispatch my mechanics for any equipment that is due."
Pereira anticipates the system will extend equipment life because it's easier to monitor service needs. "We used to have to rely on the operator to tell us when equipment needed service. Now that process is automated and we are able to stay within the maintenance recommendation limits," he explains. "We feel this technology pays for itself by having equipment that runs better and is up-to-date on service."
Additional Resources that Build on the Topics of this Article
Telematics: Capturing the Power of Information