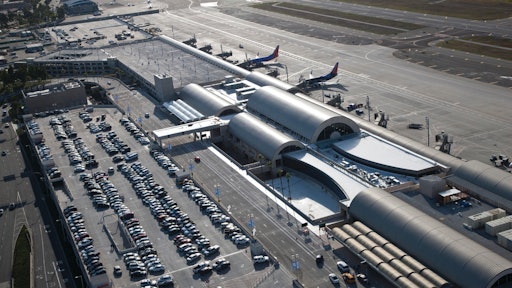 John Wayne Airport's (JWA) new Terminal C opened to passengers on November 14, 2011. Constructed by McCarthy Building Companies and designed by Gensler, the new terminal increases JWA's capacity from 8.4 million annual passengers to 10.8 million. It also provides the airport with the ability to operate international flights. The $211.5 million facility was part of the $543 million Airport Improvement Program (AIP) – one of Orange County's largest-ever public works programs – which created approximately 6,670 jobs over the life of the project.
Serving as the general contractor, McCarthy began construction on Terminal C in August 2009. The project included adding a 282,000-square-foot, three-level terminal building, plus a basement, to the existing 448,000 square feet in Terminals A and B at the Thomas F. Riley Terminal. McCarthy also performed upgrades and renovations to the existing terminals including the installation of a new paging/communications and information technology system in both terminals. The reconfiguration of three gates (two for international flights and one for the Common Use Passenger Processing System), as well as the remodel of select airline offices in Terminal B was also completed.
Further work by McCarthy included the construction of two new commuter terminals with space for up to three commuter/regional jets at the north end of Terminal A and three commuter/regional jets at the south end of Terminal C. All three terminals on both secure and non-secure sides are directly connected at Terminal B and Terminal C, providing access to a total of 20 gates via a single secure concourse.
Complex features on a complex project
 "Building a major addition on a fully operational airport facility, and coordinating with other ongoing airport improvement projects including a new parking structure and central utility plant, required extensive planning and communication," said Khatchig Tchapadarian, McCarthy's project director for the airport project.  "We phased construction and worked overnight shifts to ensure minimal impact to the passengers and airport operations. A barricade was also installed between Terminal B and C, and the construction team worked closely with airport operations to coordinate construction access, deliveries and cranes."
Tchapadarian explained that one of the project's most unusual and complex features was installing the barrel-vaulted roof on the Terminal C concourse.
"The standing-seam metal roof, which is sandwiched by other structures at both ends, measure 60 feet-high and is designed on a 33-degree radius," said Tchapadarian. "We devised a solution which uses expansion joints enabling the roof to move between the existing concourse and the new terminal to accommodate for any seismic activity or thermal expansion."  
Approximately 26 construction workers completed the roof installation by first pouring 1,080 cubic yards of lightweight insulating concrete then carefully installing approximately 2,100 metal roof panels. Much of the work was conducted atop the 60-foot-high structure, and the process took six months to complete.
In order to reduce errors in the field, Building Information Modeling (BIM) was used to create a 3D model of the project before construction began. The virtual model helped to detect and avoid any system clashes in advance of construction which in turn reduced construction duration and improved the quality of construction. The project was designed in Revit, and NavisWorks was used for clash detection.
Sustainablility built in
Terminal C also features sustainable elements including an innovative LED lighting system that provides consistent lighting throughout the terminal. The system requires little or no maintenance for 20 years, and will decrease the energy it consumes by at least 37%.
Furthermore, Terminal C's Water Quality Management Plan incorporates environmental controls and specifies the means and methods of pollution control. Environmentally responsible construction was used during the project including: curbing storm water runoff from the construction sites to prevent discharge of pollutants to the storm drains; recycling 90% of construction-related materials and waste; and dust mitigation activities to minimize air quality effects during construction.
"Visitors to John Wayne Airport will experience a near seamless transition between all three terminals — a key objective in McCarthy's construction of Terminal C and in improvements made to Terminals A an B in the Thomas F. Riley Terminal," said Airport Director Alan L. Murphy. "The extensive use of marble throughout the lobbies and concourse, the floor to ceiling windows, along with all new LED lighting and technological advancements throughout the terminal, provides an innovative yet familiar travel experience." 
Parsons of Pasadena, CA, is the Program Manager; Arcadis/Pinnacle One of Irvine, Calif. is the Construction Management firm; Jacobs of Santa Ana, Calif. is the Civil & MEP Engineer; and IDS Group, Inc. of Irvine, Calif. is the Structural Engineer. The main specialty contractors are: Capparelli/KHS&S of Orange (framing/drywall); Helix of San Diego, Calif. (electrical), A.O. Reed of San Diego (HVAC) and Pan Pacific Plumbing of Irvine (plumbing).