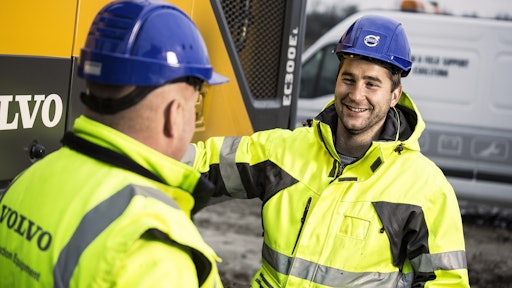 Managing a fleet of rental equipment is arguably more challenging than managing a fleet operated by your own employees. Operators don't necessarily feel the same level of responsibility for care of a rental machine as they would a machine owned by their boss, and a rental business doesn't always have the luxury of visibility into the daily use of each machine in their fleet. That is, unless the rental business uses telematics, in which case they have complete visibility - but only if the telematics are adequately monitored and managed.
The capabilities of telematics technology have evolved and become much more robust in recent years. What once was a way of simply providing the fleet manager with location information, telematics can now be used to monitor machine utilization, oversee operator behavior, provide remote diagnostics and enable anti-theft measures - all of which provide significant opportunity for rental businesses to improve the way they manage their fleet and their bottom line.
Here are the top five ways telematics can improve the way you do business:
1. Manage service schedules
Managing the scheduled service for a large rental fleet can be a logistical challenge. In an ideal world, service intervals would align with periods when the machine is between renters. Obviously, that's not feasible. Renters often extend contracts beyond the original length of the agreement, or can put more hours on a machine over a shorter period of time than originally expected. Both scenarios can lead to missed or late service intervals - and ultimately, more wear on the machine.
With telematics, the rental fleet manager will not only be notified of service alerts and error codes on the machine, but will have real-time access to machine hours and usage. On a long-term rental, this makes service intervals much more predictable. And predictability is key to ensuring a comparable machine is available for the renter if a service interval is required in the midst of a renter's contract.
2. Help determine pricing 
All work is not created equal. A renter using an excavator for two hours of light dirt trenching per day puts much less stress on the machine than a renter who is stripping rock on an aggregate site 12 hours per day. A rental business should have a good sense of the intended use of the machine when developing a rental contract and the associated pricing. Without telematics, however, once the machine leaves the lot, the business doesn't necessarily have visibility to how the machine is used.
Using telematics, the rental fleet manager can use location tracking to determine if the machine is working in an area that would indicate a different use than expected - such as an area known for surface mining or aggregates. Additionally, machine hours and utilization reporting can show exactly how the machine is being used, which hydraulic functions are being engaged and for how long. If the data suggests use outside the agreed upon terms, the rental business has potential justification to revise use to those terms.
3. Avoid unnecessary site trips 
Every fleet manager's goal - rental or otherwise - is to maximize uptime. If a machine is down, it's not generating revenue. But for the rental fleet manager especially, machine downtime can pose logistical challenges that eat up time and resources.
Without telematics, a rental fleet manager might get an unexpected call from the renter — the machine is down. The rental fleet manager must make a site visit to diagnose the issue. Not knowing what to expect, he might not know who to bring, what tools or parts will be required, and whether or not a loaner machine will be necessary. After making the trip and diagnosing the issue, a second or even third site visit might be necessary in order to carry out the service and/or machine swap(s). This equates to increased labor and fuel costs, but also lost revenue for the associated customer downtime.
With telematics, the fleet manager can run remote diagnostics from the comfort of his shop to determine the problem and ensure the proper resources are brought to the site in one trip - or perhaps determine a site trip isn't necessary at all. Better yet, the fleet manager is able to use telematics to catch the problem before it arises.
4. Catch problems before they happen
The newest generation of telematics technologies doesn't necessarily require constant monitoring for the fleet manager to reap the benefits. Real-time service alerts can be sent via text message or email to inform the fleet manager of an issue - whether it be coolant levels, oil levels or error codes that need addressed.
For the fleet manager willing to dive deeper, machine-specific utilization data can also help predict the life span of wear parts to ensure downtime is avoided and the proper parts are in stock for planned maintenance. For instance, excavator-specific data can show a record of which attachments are being used and for how long. Additionally, utilization data for wheel loaders and haulers such as idle times, number of starts and stops, average speeds and engine revving can all point to a potential need for better training of the operators in order to reduce unnecessary wear on the machine.
5. Enable theft protection 
Heavy equipment thefts are reportedly on the rise, according to the National Insurance Crime Bureau (NICB), whose 2013 report showed a total of 11,486 heavy equipment thefts — a 5-percent spike from 2012. The same report details that only 21 percent of the equipment reported stolen was recovered. The number of recovered machines would be significantly higher had more machines been outfitted with telematics.  
With telematics, the fleet manager can set parameters for where and when the machine is being used. If the machine starts up outside of the predetermined time parameters or travels outside the geo-fenced area, the fleet manager will be alerted and can remotely track the location of the machine. Additionally, some equipment can be outfitted with anti-theft features that work in concert with telematics, which can disable the engine until such time that the fleet manager is able to enter a code on the keypad.
Dedicate the time or enlist the help
While telematics is a very valuable tool, not all rental business owners or fleet managers have adequate time to take full advantage of the data gathered from the systems. That's why some manufacturers offer dealer-managed maintenance programs that can be customized to include telematics monitoring services.
Rental business owners can benefit from manufacturer programs such as Volvo SmartCare that entail customizable service agreements with their dealer to include everything from a range of warranty options; fuel efficiency and uptime guarantees; dealer-provided telematics monitoring services; and on-site trainings, service and inspections. Programs like these can reduce downtime, cut down on administrative and labor costs, and ensure any maintenance is predictable and planned.
Kent Somerville is director of national rental accounts at Volvo Construction Equipment, where he is responsible for the company's Canadian rental channel, as well as managing key national rental account relationships throughout North America. Prior to joining Volvo, Somerville was a district manager for Ingersoll Rand. Somerville earned his B.A. in economics from University of Manitoba in Winnipeg.