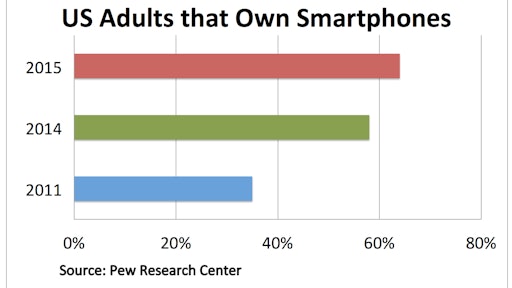 Mobile-device software applications' impact on your business should be nothing less than revolutionary.
Consider the regular paperwork nuisances your company's people have to deal with most frequently – every day or week. There are, inevitably, apps for that. And if there aren't, developing custom mobile software applications that convert paperwork time into project production time has become accessible to everyone, not just programmers.
At a recent BuiltWorlds conference, contractors and software developers took up the question: where are the best opportunities for improving operations with mobile apps?
"It starts with understanding and defining what your biggest problems are," said Andy Jansen, cofounder of HardHatHub.com, a construction-staffing web application. "Sit down and think about what problems you might be able to solve if you're ready to make that leap, and then identify the right type of apps to solve that problem."
Project-management software providers at the conference – Dan Conery, vice president of business development at Newforma and Tooey Courtemanche, CEO of Procore –suggested routine field reporting as a daily chore with great opportunity for automation.
"The biggest drag for most of you in this business is that you have to go home at night and build out the reports that you didn't do during the day," Courtemanche said. "That's the problem that we should be solving first: why can't the data you're already collecting in the field automatically document what you just saw, so you don't have to go home at night and get yelled at by your wife or husband because you didn't have the technology to assemble and submit the right data?"
"I wonder how good those manual daily reports actually are, since nobody wants to do them, and nobody goes back and checks them," said Conery. "We had one project where they found out that for three years the project manager never did one daily report. Guess when they found out? When the project went to litigation. And the contractor didn't have a single report to reconstruct what happened."
Procore and Newforma both automate daily reports with field data collected using mobile apps, and similar applications are available from many providers.
More powerful mobile devices and development of cloud data storage have dramatically improved the capability and value of mobile apps in just a few years. Rapid growth in the general population's familiarity with smart phones and tablets is making the mobile app one of the easiest ways to take more money to a contractor's bottom line.
Apps eliminate paper forms and redundant data entry, improving the accuracy and timeliness of construction-project data even as they reduce the cost of collecting it. Decision makers in the field convert that data into actionable information when they access it via mobile apps to make the best choices.
"In the construction industry, the people actually doing the work spend too much time chasing information," said Alex Bakman, head of mobile-app developer Snappii. "Information needs to be contextual to the job, to the individual, in time and location.
"That's what GE wants from a project we're helping them with. An individual going out to repair a pipeline shouldn't have to search for a part number when he's dealing with that particular part. The app should access the manual. If he has to replace the part, he should be able to just click on the 'order the part' button. Simple. Bring information to them; not the other way around."
Innovations are coming, but don't get distracted by the whiz-bang. Basic applications can, and already are, improving profit for companies willing to use them.
A 2015 survey by mobile-app developer Canvas of companies in construction, field services, retail and distribution, healthcare, manufacturing, government and logistics found two-thirds of respondents used up to five mobile business apps in 2014. And 20% of organizations used ten or more mobile business apps last year.
A recent survey by EMA Contractors found that 22% of contractors use tablet computers as part of their workday.
More importantly, 17% of firms responding to the Canvas survey reported saving between $25,000 and $100,000 annually with the switch to mobile apps. Eighty-one percent indicated cost savings between $1,000 and $25,000.
All the construction app developers at the BuiltWorlds conference urged contractors to focus on mobile apps that integrate with their back-office data systems.
"Apps without connectors are useless; they just create data islands," said Bakman. "That's why we at Snappii have created apps with literally dozens of built-in connectors so you can automatically send data wherever you want it to go.
"You want to collect the data and then be able to analyze it. So you run it into a business analytics engine."
Use of mobile apps has grown beyond the gamer and tech-geek realm. Some contractors are already committing resources to finding applications that move their businesses forward faster and more efficiently not because the technology is cool, but because apps can easily overcome one of the key obstacles to completing projects more profitably: they create a simple conduit for complete information – text, photos, video, data, even voice – to flow to the people making everyday decisions in the field and the office where they need it, when they need it.