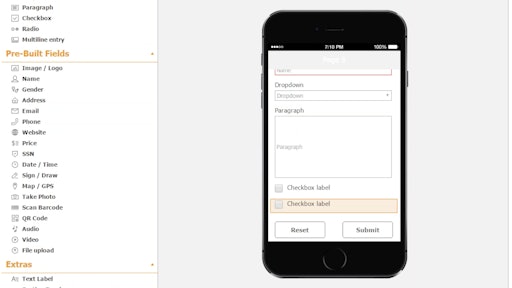 We have done a lot of mobile app coverage on this blog — mostly focusing on pre-existing apps available for purchase. What we haven't talked much about are custom apps. Recently, I had the opportunity to talk with app developer Snappii and get a behind-the-scenes look at how construction contractors can modify existing Snappii apps to create a custom construction app for their companies.
To me, this option is like a hybrid. You don't have to completely start from scratch to create a custom app, but you have the flexibility to modify an app to make it better suited for your business and not just a one-size-fits-all app.
According to Snappii, contractors can create a custom app within hours not months. Contractors can see this as a positive or a negative. While it's beneficial to be able to create and start using your app quickly, it still takes time.
Creating custom apps with Snappii does not require a contractor to have app design or coding experience. However, for a first time user it will likely take several hours (or more) to create your custom app, depending on how quickly you can familiarize yourself with the process and the level of customization you want to achieve.
If you like the idea of modifying an app to make it customized but don't like the idea of finding the time to do so, Snappii does offer a support team that can create your custom app for you.
Details
Snappii has over 60 pre-built Apple and Android construction-related apps available for download and customization. A few examples include:
Construction Daily Log
Construction Estimator and Bidding
Heavy Equipment Inspection
Quality Inspection
Construction Change Order
Safety Inspection
Road Inspection
Construction Timesheet
Plus, the company says it is constantly adding new apps to its library. 
When it comes to the actually editing, users can choose from an Express App option or the Guru App option. Users can also switch between Express and Guru while in edit mode. The difference is the Guru option provides total control over the app and offers the users much more flexibility in customization. 
Overview of the process and options
So how does creating a custom app with Snappii work? If you've already downloaded a Snappii app then all you'll need to do is create a Snappii account and then go ahead and start editing your app.
If you want to go it alone, Snappii has several video tutorials and user manuals available. If you need some hands-on help, you can also get help from the Snappii support team whether you just need answers to questions or you need someone to do the modifying for you. 
You can also create a customized app without fully committing right away. Snappii allows users to customize an app and use it for a 14-day trial. After the 14 days the user can purchase a license to continue to use the app.  For a private app for use just within your company, a license cost $5 per user per month for the mobile app and an HTML version for use on desktops — an option many construction contractors find useful, according to Snappii.
To get started, for users who have not already downloaded an existing Snappii app, you can search through the available ready-made Snappii apps to choose the one that best fits your needs. Once you select your app you can move forward with modifying it.
Contractors can choose from a multitude of modifications. For some, the options may seem overwhelming — which is why earlier I suggested that it may take several hours to customize the app. The up side to so many options is that you should be able to find everything you may need or want to customize the app to your construction business needs. 
For example, if you're customizing a form-related app, users can choose from several pre-built form types to add to their app. You can further customize each of those form types using basic and pre-built form fields. You can add or remove form fields, change field names, make certain fields required or optional, and so much more. 
In addition to existing forms to choose from, Snappii also allows users to upload their own PDF forms into an app or create a form from scratch. And, all uploaded PDF files are completely customizable from the app. 
Snappii also has a widget library with many pre-built forms available giving contractors a third option to find just the form they are looking to add to their app. 
If you have already downloaded the app prior to customizing you'll be able to almost instantly view the changes you make during customization. After a change is saved just open and refresh your app on your mobile device and you should be able to see and play with the newest customized change on your device.  
Once you've finalized your custom app, you have the option of creating a public or private app. Most contractors would choose private, meaning the app is just available for your company. However, you can choose to make it a public app available for others to download through the Apple and Google Play stores. 
Is customization right for your company? 
One of the biggest benefits of creating a custom app through Snappii is that contractors don't have to create an app from scratch. Snappii has many apps readily available to modify with many pre-built forms, fields and options available to add. This does save some time in the creation process. 
Customized mobile apps are not for everyone. Not every construction contractor will find a benefit from spending the time or extra money creating an app just for their company — even if it's with a company like Snappii who provides ready-made, modifiable apps. Some contractors get exactly what they need from existing apps, no modification necessary. 
But, for the construction contractor who may be looking for something more but not quite to the point of creating an entire new app from scratch, customizing an app through a company like Snappii might be a great option. 
What you'll need to ask yourself is: 
Am I getting what I need from an existing app or am I looking for more?
Am I willing to invest my time (or a co-worker's time) in customizing the details of an app?
What do you think about this hybrid version of a ready-made yet customizable mobile app? Is it something you think you'd want to use in your construction company? Why or why not?
Have you already created a customized Snappii app for your construction company? What did you think of the process and the result? Share your experience and thoughts in the comments section below.