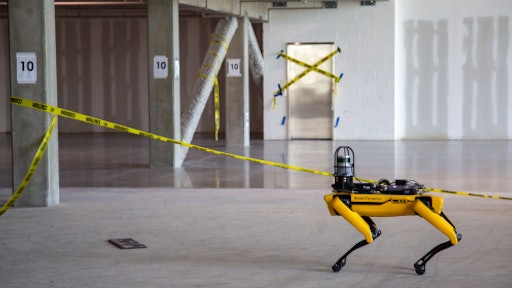 Boston Dynamics
Several years ago, Boston Dynamics lit up the Internet with a video featuring a robotic dog, dubbed Spot, acting out eerily dog-like functions - sitting, walking, jumping, etc. But until now, the unique and somewhat creepy-looking creation has been largely the stuff of viral video legend. 
Now, according to a Fast Company report, Spot is being put to work, as the company leases it out for use in pilot projects. Its debut application is with HoloBuilder, which has equipped the robot to regularly tour large construction jobsites to capture 360° images that engineers can use to track job progress. Its first assignment was surveying construction of the Harvey Milk Terminal 1 at the San Francisco International Airport, where construction firm Hensel Phelps used the robot to run multi-week pilot tests in the spring and fall. Spot took on site surveying traditionally completed by field engineers using 360° cameras and the HoloBuilder Reality Capture Platform software. Those engineers were then free to do more productive work.
According to Fast Company, the robot is initially "trained" by walking it through the site via remote control using a HoloBuilder smartphone app. Spot is able to build a digital map that enables it to roam the site independently in future. Engineers specify locations where the robot will stop and capture images. 
Click here to learn more about Spot and his potential use in construction applications, and be sure to check out the video of Spot in action on site below.
[VIDEO] Construction Progress Documentation Solution Puts Robotic Dog to Work on Jobsites
Read next: Trimble, Hilti and Boston Dynamics Teaming Up to Test Autonomous Robots in Construction