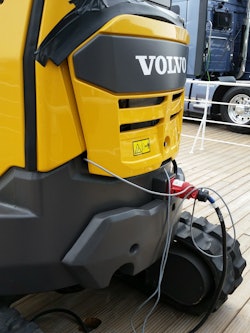 David Zach and Glen Hiemstra are known for their work with dozens of innovative Fortune 500 companies. In partnership with Volvo Construction Equipment*, they provide their forecasts for the construction industry – one of the sectors of the economy most overdue for a complete overhaul in North America, and one that is likely to see dramatic changes over the next 20 to 40 years.
Machines are already becoming fully electric in 2020. In the coming decades, more of them will become autonomous, particularly around duty-cycle work, and they will increasingly talk to one another, to manufacturers and to robots on the jobsite. Both Zach and Hiemstra point to a future where equipment and construction methods are increasingly affected by the advances in the Internet of Things (IoT), robotics, artificial intelligence and more modular predesign.
"Construction is one of the industries that is most ripe for innovation," Zach says. "There is going be increasing modularity and prefabrication, and a lot of this will come from the advances in the 3D realm."
Growth of Prefab and 3D Printing
The buildings constructed in the future will be increasingly complex, the futurists predict, making use of techniques and technologies that we are just beginning to unleash.
The construction of "super tall" skyscrapers, commercial buildings and residential housing will be increasingly modular, utilizing more prefabricated elements, including entire rooms and their furnishings that are built in a specialized location then installed at the job. This will reduce costs, speed up project delivery times and simplify building processes.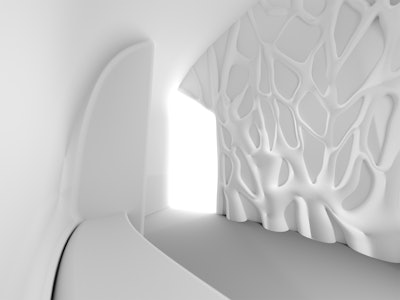 An example of this could be a complete bathroom that is built at a factory and transported on a truck to the jobsite. A crane lifts the bathroom through the frame of the building that is still being built and it is locked into place. Robots hook up the water and electricity to the unit. This type of building is already being tested and will only grow in popularity.
For smaller building types, entire neighborhoods of houses will be 3D printed and completed with prefabricated elements to quickly provide affordable housing in emerging regions of the world. This has already been accomplished in Mexico and developers are looking to roll this model out in other parts of the world.
More Futuristic Buildings
Increased processing and simulation capabilities will allow for new ideas and approaches in architecture, delivering bold visual statements.
"Better computing intelligence and simulation will allow for a new playfulness in architecture, introducing more strange angles, swoops, curves and cutouts into buildings, creating exciting visual impacts," Hiemstra says. "Wires and plugs will disappear. Only 20% of future building construction will be what you can see with your eyes."
The other 80% will be devoted to communications, HVAC, energy and green technologies. New polymers in paint will improve inside air quality. Sensors in the walls will monitor for unhealthy air, chemicals, smoke and fire. New laminates that resist fire and deterioration will once again make wood — a renewable resource that requires less energy to prepare — a premier building material.
And no matter the type of building being constructed, the amount of parking space available to commuters will decrease as mass transit, ride sharing, and autonomous vehicles will reduce individual car ownership. Where there are parking structures, they will be made to produce their own energy for charging electric vehicles.
New Eyes, Ears and Arms on Site
Drone technology, robotics and artificial intelligence will dramatically change the nature of work, futurists say, and we're just beginning to understand how they will change construction.
"Drones are a no-brainer for construction," Zach says. "You have the machines with your eyes right there on site. They might be controlled by an app or they could be controlled by artificial intelligence."
Flying drones will monitor construction, sending critical data and visualizations back to contractors as projects progress. Rolling drones will travel up and down building shafts and behind walls to take readings and relay important information that can be fed back to project managers or integrated into 3D modeling software to improve performance or solve unique challenges.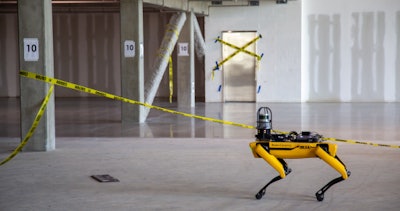 Robots that resemble humans and canines will become a fixture on jobsites, taking over heavy physical labor and collecting useful data. Artificial intelligence will help these robots make critical decisions and relay information back to architects and construction companies.
Conversely, humans may look more like robots, wearing full body suits that enhance their physical capabilities and decision-making skills, while increasing safety through the use of warning systems, protective armor and air bags. A worker might fall from a short height and air bags deploy to keep them safe, for example.
"We'll see more humanoid robots emerge in approximately 10 to 20 years and they will be quite sophisticated," Hiemstra says. "They will be under human supervision at first, as their artificial intelligence won't be quite as flexible as humans. They may be controlled by virtual reality or some other new remote-controlled operator techniques."
Communication and Automation
Aided by advances in telecommunications – including new satellite systems that provide low-latency internet connections – machines on jobsites will talk with one another, sharing their locations, travel paths and more. New telematics systems will further boost machine uptime, as real-time analytics are shared with OEMs and contractors, and machines are continuously monitored on the site for maintenance and performance.

Improved connectivity will also enable autonomous machines to handle duty-cycle tasks, such as moving materials, and remote-controlled machines to be piloted by humans off site, increasing safety and efficiency. Virtual and augmented reality will give companies better access to hard to reach locations and enhanced abilities to solve challenges that arise on the jobsite – no matter where they are physically located – and then use robots to implement the solutions.

"Automation will be a big sticking point," Zach says. "Construction provides an ideal environment, as it's closed and contained. With more sophisticated machinery, we can speed up projects and project management. The need for speed is going to drive automation."

As part of its ongoing efforts in "Building Tomorrow,"

Volvo

CE has partnered with professional futurists to gather their forecasts for the industrial industries. Futurists forecast the coming trends in science, technology and business. They help companies understand how the innovations of today will impact the industries of the future.