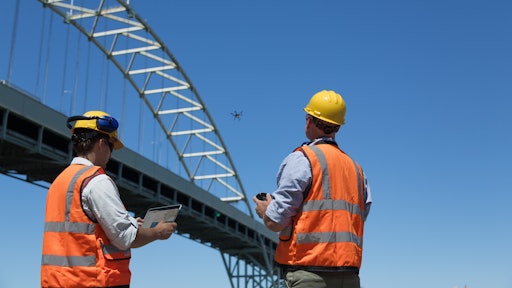 Skyward
Funding is a major obstacle for drone programs launching at large companies. With budgets tight, drone advocates may struggle to get corporate approval to fly on the jobsite unless they can prove that drones can make an adequate and immediate return on investment. Here's the good news: in the construction and engineering industry, high-value use cases for drones aren't hard to find.
Some of the more obvious uses for drones at construction companies include speeding up data collection and reducing reliance on helicopters and planes. But companies may be less likely to hone in on other parts of the value equation. This includes things like new insights from better data, increased productivity, risk reduction and lower workers' comp costs.
If your engineering, construction or architectural firm is evaluating drone adoption or expansion, here are some of the top value factors to consider. 
1. New insights from drone data not captured before
Building Information Modeling (BIM) and three-dimensional (3D) modeling are vital in modern construction. To effectively use 3D data, businesses need to capture accurate models at various stages of planning and construction. Drones are well suited for quickly modeling buildings and large areas. Using drones for photogrammetry can enable faster and more frequent modeling at a lower cost than current mapping methods.
Some companies are using drones for up-close thermal inspections to spot structural defects and cracks. Others are looking into 3D location tracking of moving objects (such as people, equipment and materials) on construction sites using a point cloud-vision hybrid approach.
Brasfield & Gorrie, one of the largest privately held construction firms in the U.S., uses drones for BIM to generate virtual reality (VR) simulations of a building before construction actually begins. The technology makes them more efficient with prefabrication, better able to use their labor force across diverse markets and more competitive.
2. Added productivity from drone workflows
Often, drones can save a significant amount of time when replacing existing processes. As an example, Brasfield & Gorrie has saved time and money by doing site measurements once, then subsequently using digital models instead of repeated field trips. 
For example, Hunter Cole, virtual design and construction coordinator at Brasfield & Gorrie, notes, "We recently captured a point cloud of an existing structure in a remote location accessible only by boat. It was a four-hour drive and a one-hour boat ride to reach the site. At that point, we were able to give the project team back at headquarters virtual access to the site. So, instead of making a long trip to take some quick measurements, we can now do that in the point cloud that was generated from the drone."
Over time, drone programs can expand with more use cases to derive even greater value. A drone program that begins with inspections may later grow to help with inventory management and 3D modeling.
Construction giant Hensel Phelps was using helicopter flights costing $14,000 to $20,000 per flight to capture aerial video of their projects. Today, they're using drones at a fraction of the cost, and they've expanded to other uses such as photogrammetry, site monitoring and marketing material.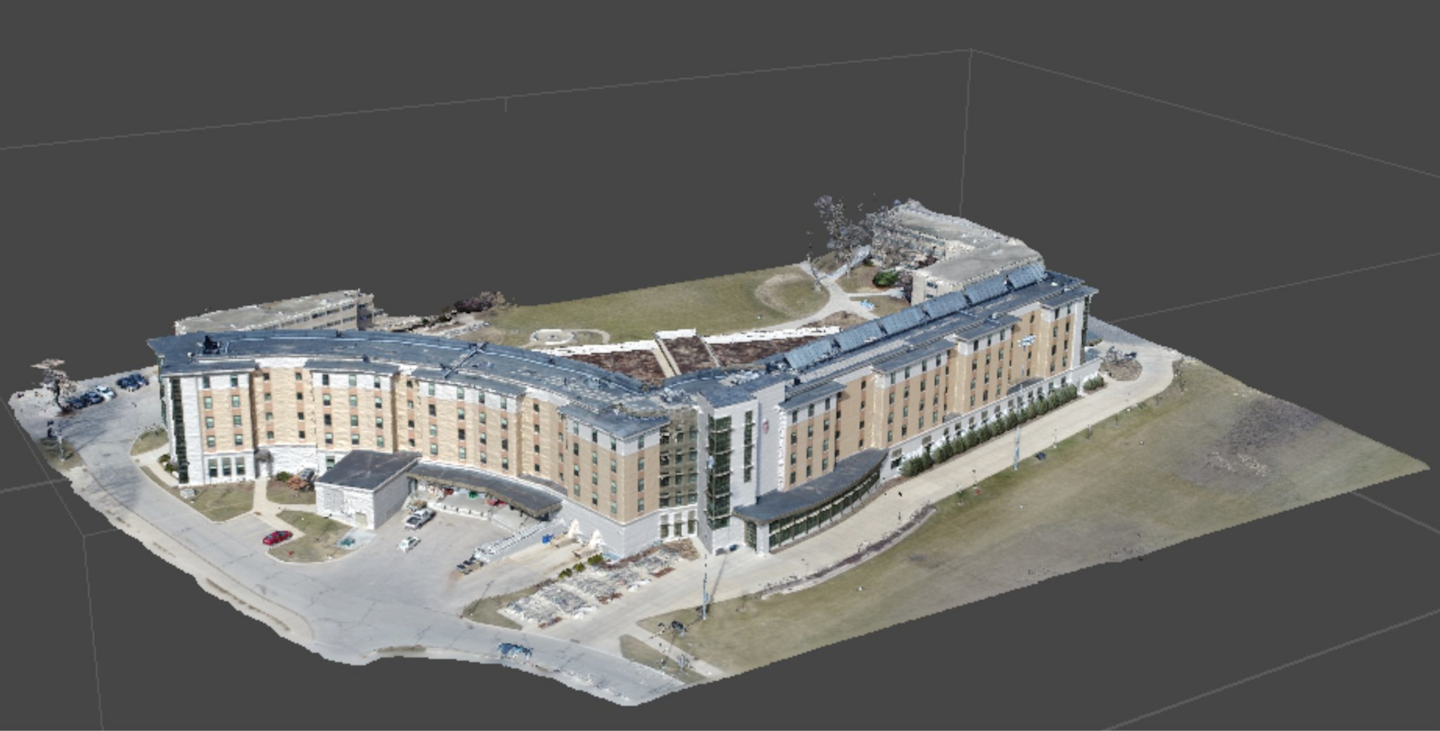 Most modern drones are well equipped to collect the imagery needed for photogrammetry, the process of collecting geo-referenced, 2D images, and using software to stitch them together into 2D maps or 3D models.Skyward
3. Performing risky jobs with drones for improved worker safety
According to OSHA, one in five worker deaths in private industry in 2019 were in construction — a total of more than 1,000 deaths. Drones can help improve jobsite safety by taking the place of humans for certain hazardous tasks, like:
Inspections of assets at dangerous heights

Exploration of areas containing hazardous materials, temperatures or gases 

Identifying electrical hazards and utility lines
Having drones perform tasks like these can reduce incidents from OSHA's "Fatal Four" construction hazards: falls, struck by objects, electrocutions and caught in/between.
Moss & Associates, an ENR Top 100 Contractor, launched a drone program focused on safety and consistent standards. With the help of a start package designed to equip companies with the policies, equipment, software and training needed to launch a drone program, Moss was able to fast track its drone program. From standard operating procedures to on-site training, the package helped Moss launch a safety conscious drone program in a matter of weeks. Today, the company continues to use drones to improve workplace safety and produce great results.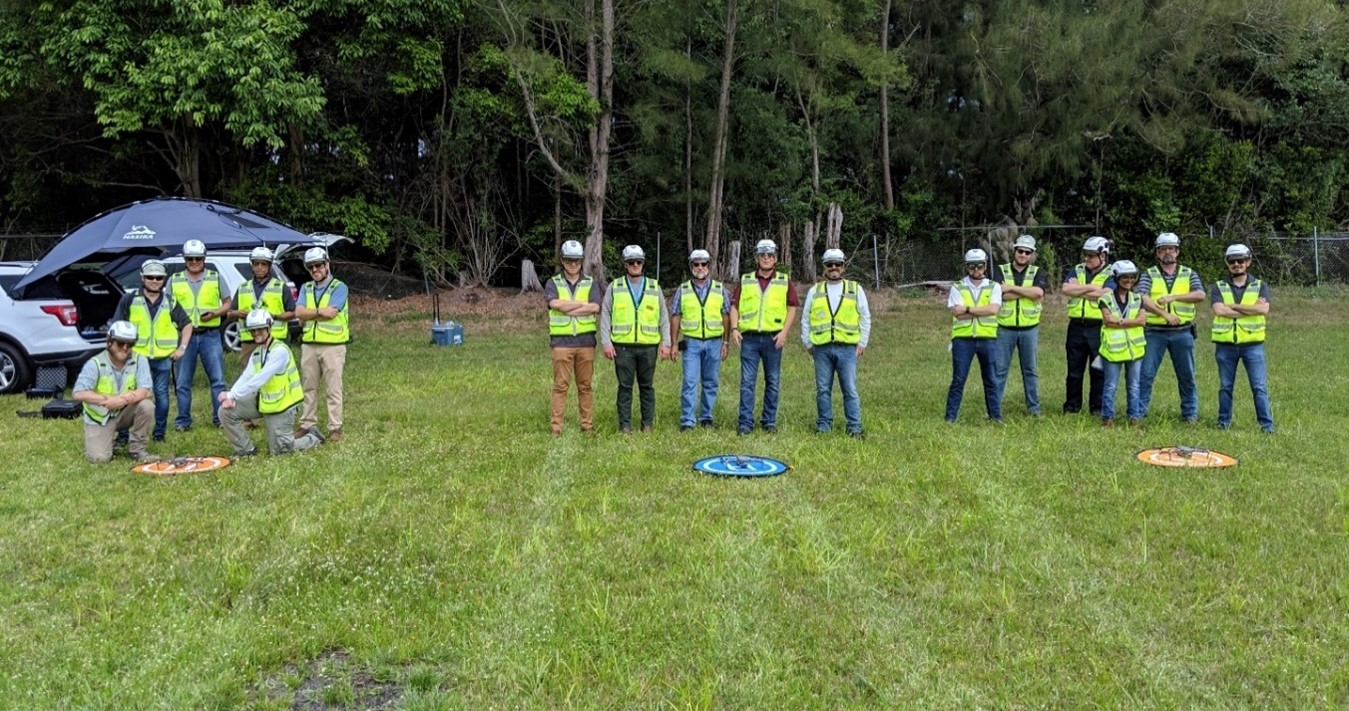 Using Skyward's Program Start Package, Moss & Associates successfully trained and equipped a team of pilots within a matter of weeks.Skyward
4. Fewer Workers' Compensation Claims
OSHA estimates that employers pay almost $1 billion per week for direct workers' compensation costs alone. This includes workers' compensation payments, medical expenses and legal services. In addition, there are indirect costs:
Training replacement employees

Job transfers or restrictions

Accident investigation and implementation of corrective measures

Lost productivity

Repairs of damaged equipment and property

Lower employee morale
As noted, drones can improve worker safety. This, in turn, can decrease the frequency and severity of on-site incidents and save construction companies significant workers' compensation costs.
5. Faster, richer results with connected drones and 5G
As 5G wireless networks continue to be built out, connected drones have the potential to unlock still more new capabilities. Virtual reality applications are emerging, like next-generation inspections and monitoring movement of resources. These capabilities stand to benefit from the power of 5G, which can offer:
Low latency, potentially allowing control of aircraft from miles away in near real time

Rapid data transfer, enabling transmission of high volumes of data

Near real-time analytics during flight with mobile edge computing (MEC)

Up to a million connected devices per square kilometer
Construction and engineering firms were among the earliest adopters of drone technology. We expect that they'll continue to lead the charge for new use cases that leverage faster mobile networks, edge computing, photogrammetry, AI and machine learning. As they do, they should see drones delivering an increasing amount of value across the industry.
Donavon Graves is director of business development and strategic planning at Skyward, a Verizon company.