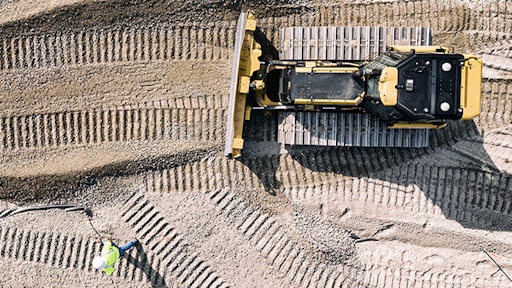 Caterpillar Inc.
You may think of drones as modern-day technology, but the concept has been around for nearly 175 years. In 1849, Austria launched around 200 unmanned, explosive-laden balloons to attack Venice. (Not very successfully — the wind blew them off course and only one bomb hit its target.)
That marked the start of the use of unmanned aerial vehicles (UAVs) for military purposes. Their function didn't extend much beyond that until 2006, when the Federal Aviation Administration issued the first commercial drone permit. Since then, drone use has skyrocketed — pun intended — and not just by hobbyists.
A quick Google search turns up all kinds of interesting business applications: Large-animal vets making sure entire herds of cattle are rounded up for medical tests. Farmers checking soil hydration levels and plant growth. Oil companies monitoring off-shore rigs to prevent spillages.
Keeping people safe is worth the investment
The construction industry hasn't been left behind when it comes to drones. Contractors are using them for site surveys, stockpile profiling, material measurement, inspections, client reporting and more. Why? Drones make it easy to gather large amounts of real-time data about site progress quickly — providing information you can use to get work done faster, at a higher quality and at a lower cost.
All that delivers a big financial return, but there's another benefit that can make an investment in this technology immeasurable: safety. With a drone, you can:
Remove people from unsafe situations. Drones can handle a number of jobs that are risky for humans, like climbing up a pile to measure stockpile inventory or manually setting survey stakes. In many cases, they can do the work more quickly and accurately as well.
Get a bird's-eye view of the job site. When you can see where people are in relation to machines and other hazards, it's much easier to identify blind spots and potential risks before accidents occur.
Respond to near-misses. Rather than guessing at what happened, you can send a drone to capture footage of a particular task or location, then analyze it to make changes — much like an athlete reviewing game tape after a loss.
React to site changes. What might have been a safe situation on day one may no longer be so risk-free on day 99. A drone makes it easy to take snapshots of progress over time and incorporate any changes into your safety plans.
Getting started doesn't have to be costly
There's no price on life — one accident or injury avoided makes the investment in a drone well worth it. But what can you expect price-wise?
As little as $1,000 will get you a high-quality, easy-to-use drone equipped a 4K camera for high-definition photos and videos, as well as sensors that help prevent crashes into trees or other obstacles. Cloud-based software for analytics runs around $100-300 a month. Another option is to hire a "drones as a service" (DaaS) provider, a company that owns the equipment and provide the pilots, then collects and analyzes data for you.
For more practical advice on how to put drones to work for your business — and the many benefits beyond site safety — tune into this episode of The Contractor's Best Friend podcast.