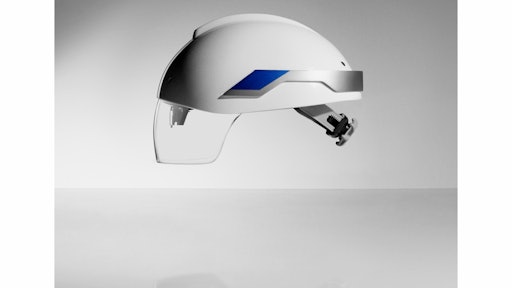 Los Angeles-based DAQRI's Smart Helmet incorporates Google Glass and augmented reality technology into a construction hardhat. So what does that offer construction contractors? The idea, is that the helmet can "augment information and data directly over the top of any work environment". DAQRI has been working on the Smart Helmet for four years. The company wanted to specifically design a product for industrial applications.
The Google Glass hardhat features a sensor bar across the brow which handles all the tracking and alignment tasks. Real-time, contextual 4D content is viewable on the HD display which is positioned beneath a protective visor. The display's fully transparent optics allow the content to be read in both low and bright light conditions. According to DAQRI, users can see 4D content through the Smart Helmet display and have the ability to touch and control the interface through inegration with devices like smart watches.
Video: How Augmented Reality Could Integrate into the Hardhat of the Future

The helmet's sensor package includes an industrial-grade inertial measurement unit, a high-resolution 3D depth camera and 360-degree navigation cameras allowing the user to see the entire work environment. The helmet also supports HD video recording, photography, 3D mapping and alphanumeric capture which allows the helmet to read and understand signage and instrument data.
DAQRI also created its own software, Intellitrack, to work with the smart helmet. Intellitrack understands the context no matter where you go so the user can have 4D anywhere, according to the company. In addition, Intellitrack allows the user to recognize products, tools and equipment.
While the company won't release an exact price, one smart helmet could cost in the thousands of dollars.
What do you think? Would you use a smart helmet for your construction business?