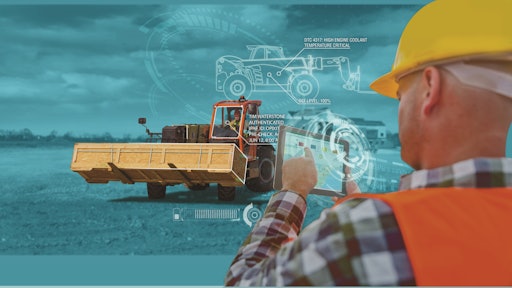 JLG Industries
Telematics for construction equipment has been around for more than 20 years, and it is rare today to meet someone in the industry who would say they aren't aware of the technology. But plenty of fleet managers have yet to begin incorporating telematics into their operations. In fact, estimates show that only 20% to 30% of equipment fleet companies — including those with aerial access equipment like mobile elevating work platforms (MEWPs) and telehandlers — are currently leveraging telematics on their fleet.
So, why does it seem to be taking fleet managers so long to adopt telematics? It's because fleet management isn't a one size fits all activity. Monitoring and tracking each machine's operational efficiency, operational cost-effectiveness, operator management, equipment maintenance, as well as equipment safety and compliance is a big job, and fleet managers often have their own best practices to manage these efforts.
Yet, through the use of telematics, fleet managers are starting to realize they can more efficiently gather, read and understand the information the machines are providing. Telematics doesn't need to be complicated or costly. In most cases, while the data points can be endless and perhaps offer more detail than most would initially need, not all the information needs to be used simultaneously. By fine tuning the data into workable amounts, aerial equipment fleet managers can easily use telematics to enhance their daily operations.
Moving forward, using telematics will be the new normal in aerial equipment fleet management.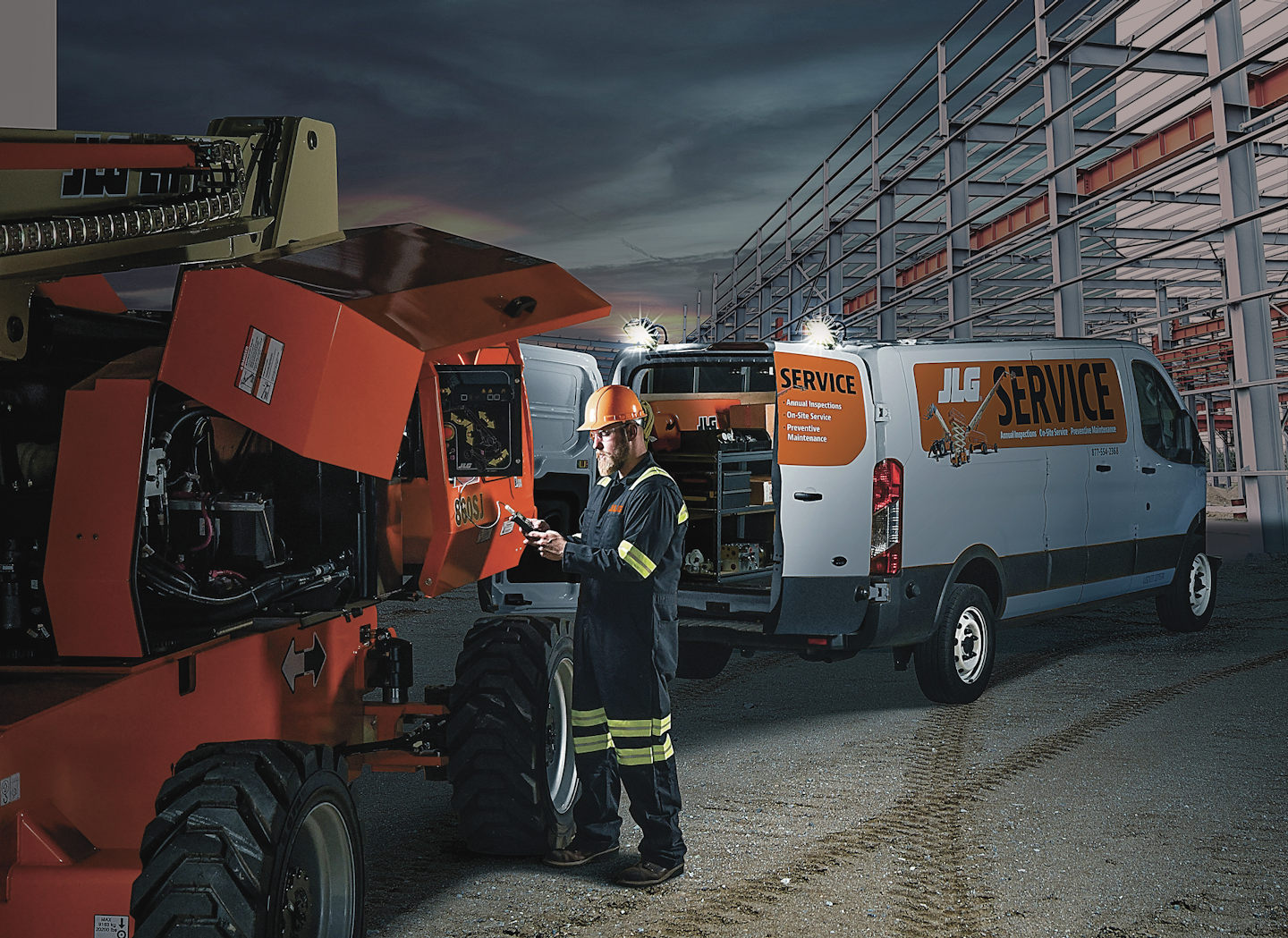 Telematics can help fleet managers manage machine maintenance schedules to ensure machines aren't over- or under-serviced.JLG Industries
Equipment Maintenance and Monitoring
Today's telematics systems typically combine GPS technology, diagnostics and monitoring sensors to track, log and report data on the performance and operation of an equipment fleet. The data can provide high-level or finite details on a number of machine systems, including equipment location, fuel consumption, idle times and machine alerts.
With access to this kind of machine data, telematics can help aerial equipment fleet managers more accurately manage their machines' service needs. For example, appropriately timing regular and preventive maintenance of each machine is a challenge fleet managers face every day. Equipment usage on jobsites often lasts weeks or months. That equipment must be maintained while out in the field to ensure it operates as expected and without interruption in order to avoid unexpected downtime, lost productivity and the related cost implications.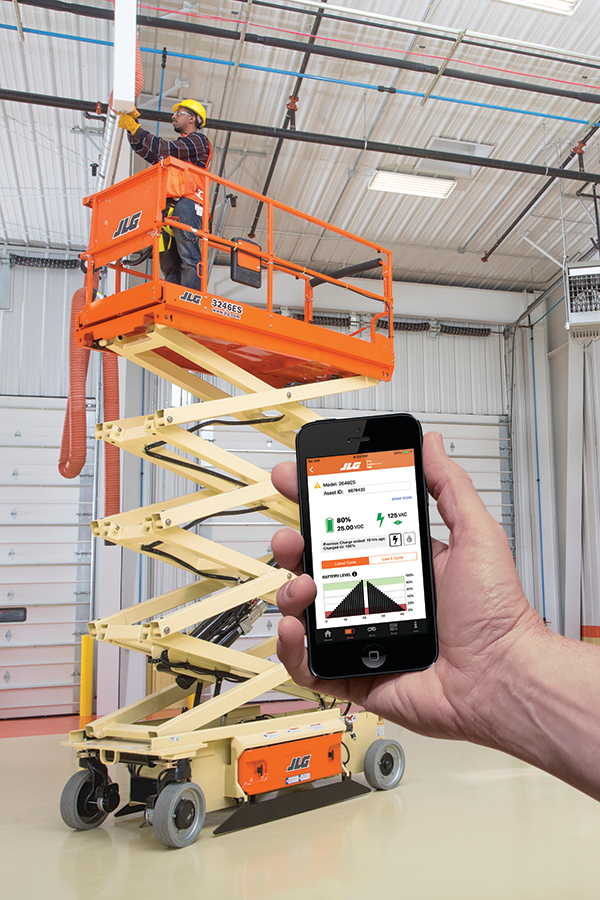 Telematics systems typically combine GPS technology, diagnostics and monitoring sensors to track, log and report data on the performance and operation of an equipment fleet.JLG IndustriesTelematics technology can also give visibility into the aerial equipment's location on the jobsite, asset utilization metrics including engine hours, as well as its operating condition through fault and diagnostic codes — any time of the day or night.
Monitoring Equipment Use
Telematics technology is much more advanced than most realize, and it can have a significant impact on productivity across the entire construction project.
For example, telematics can be a catalyst for keeping workers busy and meeting deadlines. Security features that establish geofences, or invisible lines drawn by GPS coordinates, can be set up to keep equipment from being operated outside approved areas of the jobsite. This technology improves efficiency by eliminating "lost" machines.
Telematics solutions may even be able to provide fleet managers with the ability to control the aerial equipment's on and off status based on an operator's training and/or safety credentials.
With telematics, aerial equipment fleet managers can monitor which machines are being used, how long the equipment is operating each day and the critical advantage of easily monitoring battery usage, including whether or not equipment has been plugged in for charging at the end of the day.
Get and Utilize the Right Data
Using telematics for fleet management can help get the information necessary to optimize equipment and help customers be more productive. That said, information (data points) is only helpful when it's put to good use. It's important for fleet managers to work with their aerial equipment OEMs to get the right data, integrate it into useful reports and utilize it consistently to help make critical fleet management decisions.
For example, equipment fleets that include JLG aerial equipment benefit from having access to the OEM's ClearSky telematics with Access Control system and Remote Analyzer features. This solution focuses on three key areas for fleet management:
increased utilization and uptime;
enhanced opportunities to promote safety and security;
and boosting a machine's productivity and performance.
Here's a little bit more about each one of these focus areas:
Increase uptime and utilization
Telematics can show rental equipment fleet managers where and how equipment is operating to best track and bill any out-of-contract use. It also helps to manage machine maintenance schedules to ensure machines aren't over- or under-serviced.
Using telematics, rental companies and renters can also remotely diagnose machine problems to coordinate the right tools and parts needed for on-site repairs. Users can also deflect unnecessary service calls to increase the efficiency of service personnel.
Enhance safety and security
With telematics, users can always know where machines are located. They can prevent equipment theft by setting virtual boundaries that alert when there is unauthorized movement or operation.
With features such as access control, telematics systems help prevent unauthorized use of equipment by limiting access to only trained operators. This means that telematics enables users to always know when, where and how equipment is operating.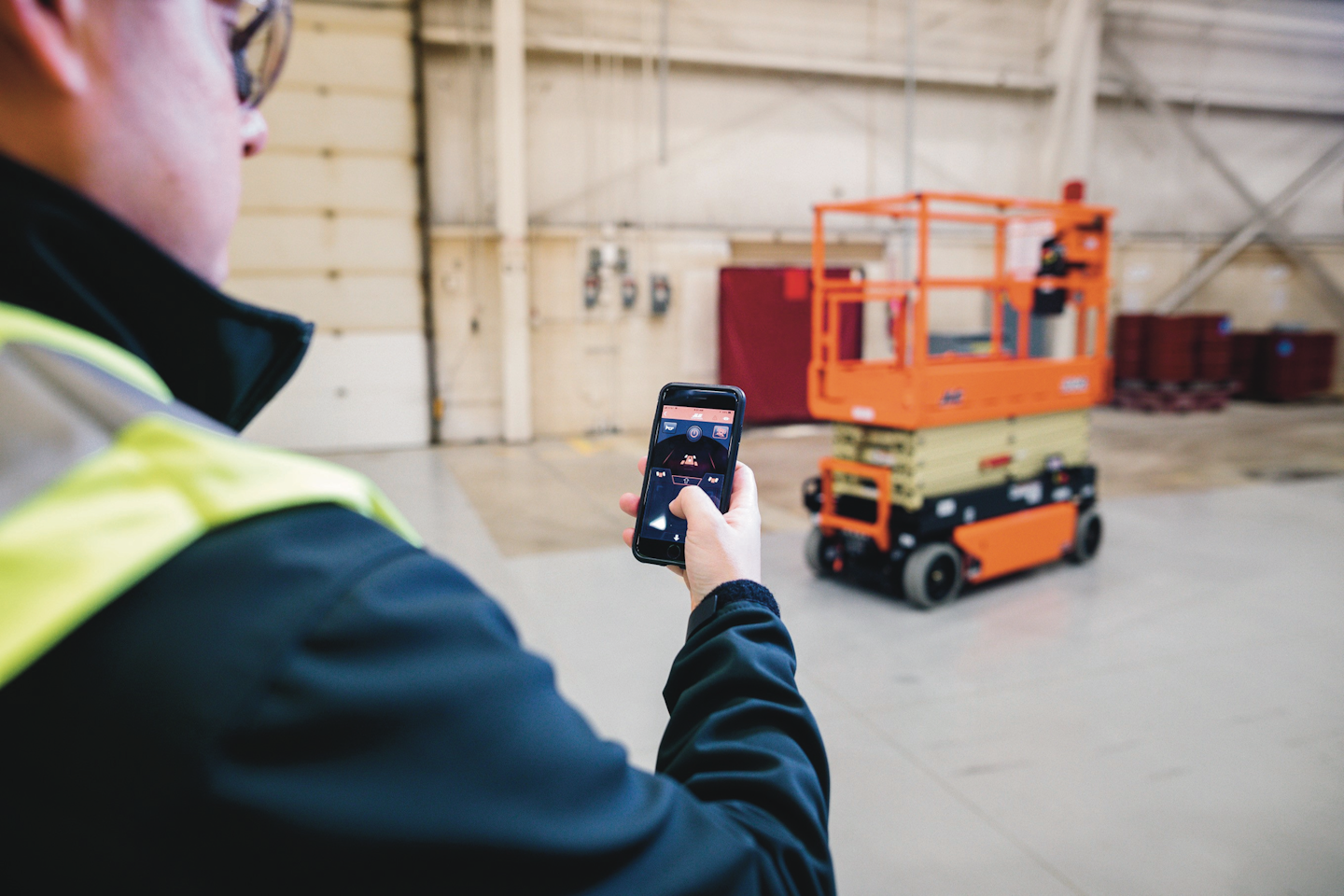 Telematics technology is more advanced than most realize, and it can have a significant impact on productivity across the entire construction project.JLG IndustriesThe systems can allow users to receive automated reports and immediate notifications when problems arise. And fleet managers can proactively schedule maintenance to reduce unnecessary service calls.
Users can also set up geofences and time fences to protect an equipment fleet from unauthorized operation or to prevent untrained operators from using the machines.
Boost productivity and performance
Telematics platforms have tools to analyze fleet and operator data, as well as determine the overall effectiveness of a fleet manager's operation. Sharing utilization and operator data can significantly improve on-site efficiency. By using telematics in conjunction with other digital tools, such as building information modeling (BIM), users can streamline the planning phase of projects to select a suitable machine for the job.
Telematics data can feed the bigger picture, as well, contributing important information that needs to be part of long-range business goals and improvement strategies. Those goals and strategies might include growing a customer base, offering better machine familiarization at the start of each rental, limiting the geographical radius in which machines may be used and decreasing the number of jobsite service calls, just to name a few.
As construction sites today continue to expand in size and complexity, meeting project deadlines is increasingly important. Although integrating telematics into a business' daily operations may seem challenging, there are numerous benefits that can help justify the initial time and effort. That is because all of the facets of telematics can significantly improve productivity on a jobsite, help projects stay on target for completion or proactively plan for delays.
Jonathan Shapiro is senior manager, ClearSky Telematics Sales and Business Development, JLG.