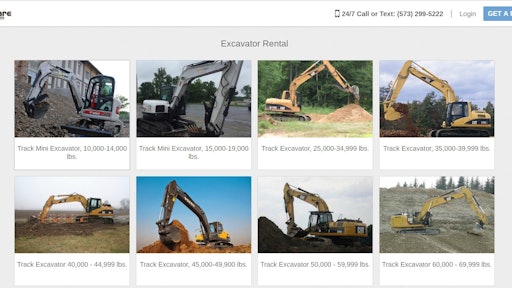 Less than a year after a $5.5-million Series A round of funding, peer-to-peer equipment-rental dealer EquipmentShare secured a $26-million Series B round of venture capital worth led by Insight Venture Partners and existing investor Romulus Growth. Existing investor Y Combinator also participated in the round. The Columbia, Mo.,-based startup helps contractors rent out their under-utilized equipment, or rent equipment that they need from a other contractors.
With this capital, EquipmentShare will launch its mixed-fleet telematics solution, ES Track, and open peer-to-peer marketplace locations in eight additional U.S. markets.
"Since our founding, we've committed ourselves to helping the construction industry become more efficient, lucrative and productive," said Willy Schlacks, president of EquipmentShare. "With this funding, we're able to spark even greater change in the construction industry by further expanding our rental marketplace footprint and providing contractors everywhere with the telematics data they need to optimize their equipment."
ES Track allows EquipmentShare to automatically and gather equipment usage data via wireless networks. Of course the data are displayed on a digital dashboard that EquipmentShare users can easily access to allay qualms about keeping track of their equipment and its usage by renters. EquipmentShare can send technicians to install ES Track hardware on contractors' equipment if necessary to get them started with the program.
ES Track allows contractors to track the location, health and use of their fleet in real time, all in one place. Built specifically for the construction industry, the telematics system provides in-depth oversight tools and analytics for both contractors and original equipment manufacturers (OEMs). Previously available only to EquipmentShare's marketplace users, ES Track will now be available for contractors everywhere.
ES Track can also help contractors comply with the upcoming ELD (electronic logging device) Mandate issued by the Federal Motor Carrier Safety Administration for on-road trucks. The new rule requires truck owners to prove hours-of-service compliance using electronic logging devices by Dec. 2017. EquipmentShare says ES Track can satisfy this mandate and will enable contractors to comply while benefitting from the system's data analytics for their fleets.
Currently available in four U.S. cities, EquipmentShare will launch new peer-to-peer marketplace locations in eight new markets in the South and Midwest in 2017. Contractors in these markets will be able to lend idle equipment for additional revenue or rent equipment at rates lower than traditional rental companies.
"EquipmentShare has become one of the fastest-growing construction technology companies in the nation. In the 18 months following our investment in their seed round, the company expanded into two new markets and developed a comprehensive telematics platform that will benefit contractors on an entirely new scale," said Neil Chheda, co-founder and general partner at Romulus Capital. "EquipmentShare is a prime example of company that has taken the collaborative consumption model and evolved it into a more meaningful technology business."
EquipmentShare competes in the relatively new peer-to-peer construction-equipment sharing/rental economy with Getable, Dozr and Caterpillar-backed Yard Club.
Companies in this article