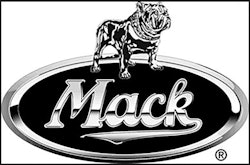 Mack Trucks announced it has entered into a Memorandum of Understanding (MOU) with Geotab, a global provider of end-to-end telematics technology, enabling connectivity for older Mack vehicles not currently equipped with Mack GuardDog Connect, Mack's integrated telematics solution. The addition of Geotab will help all Mack customers to benefit from telematics technology.
Geotab offers intuitive, full-featured solutions to help businesses better manage their drivers and vehicles by extracting accurate and actionable intelligence. Using this business intelligence and benchmarking data, fleets can improve productivity, reduce fuel consumption, enhance driver safety and achieve stronger compliance to regulatory channels.
Details regarding the new service offerings through Mack connected vehicle services have not yet been finalized. Geotab will be available for older vehicles and will not replace GuardDog Connect.
 "We are pleased to sign this agreement with Geotab because it will offer Mack customers who previously did not have access to data and services the ability to be connected," said David Pardue, Mack vice president of connected vehicles and uptime services. "Customers with Mack vehicles not already equipped with GuardDog Connect now will have the opportunity to utilize proven connected services to enhance fleet operations."
Companies in this article