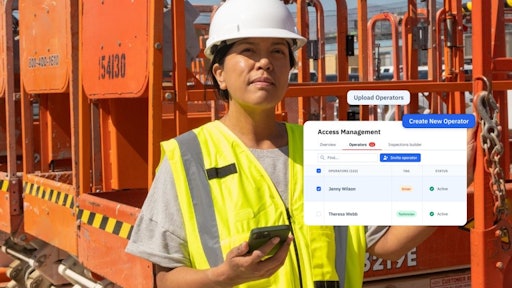 Trackunit
Trackunit has launched its next-generation access management solution, building on a platform that will put fleet owners in control of who has access to machinery and help make construction sites safe.
"With the Trackunit access management solution, rental companies can safeguard their fleet by stopping unauthorized use and damage," said Lærke Ullerup, Trackunit's chief product and marketing officer. "This solution ensures that only those who are certified and have the validation to use machinery like mobile elevated working platforms can actually gain access via digital keys on the Trackunit On mobile app."
"This has obvious safety implications and will enable fleet owners to demonstrate that they are complying with legislation designed to reduce incidents on the job site," said Ullerup. "The era of the zero-incident construction site moves a lot closer with this launch."
Ullerup added that the second-generation solution has simplified the process of managing access. "This will enable the OEMs and rental companies that enable and distribute the technology to ensure the value is delivered throughout the jobsite, right down to the operator," said Ullerup.
"We've levelled up a product that has already changed the way machine access is managed by major construction fleets and contractors and the integration of machines into the safety paradigm will support a culture right through to the individual operators where minimal risk is the defining principle," said Ullerup. "It can be used on every jobsite, it's super-easy to deploy and opens the door towards standardization."
Because access will become more digitalized, it will minimize the need for administration-heavy manual processes. It will in addition enable fleet owners to comply with safety standards in line with regulatory requirements.
Logbooks will also show who operated the equipment and for how long, supporting business planning that might, for example, enable equipment sharing and coaching on operator behavior.
"Construction's number one priority is always the safety of its workers on the job site," said Ullerup. "Nevertheless, it's also evident that reducing incidents will inevitably keep costs down, help avoid budget overruns and make sure we as an industry are able to keep a sharp focus on the constant battle to eliminate downtime."
Request More Information
Fill out the form below to request more information about
Trackunit Announces Next-gen Access Management Solution