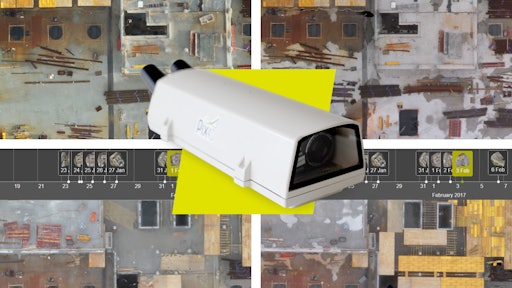 Pix4D, a Swiss developer of drone mapping software, and Liebherr, one of the world's largest manufacturer of tower cranes, are launching a unique crane-based mapping solution at CONEXPO-CON/AGG in Las Vegas. The solution is now available via Pix4D for worldwide distribution. 
Pix4D expands its Pix4Dbim construction solution range with the Crane Camera: offering construction professionals an end-to-end application that combines data capture with a crane-mounted camera system, data processing in the Pix4D Cloud, and result analysis on the Pix4Dbim Cloud platform. 
The solution is available on a monthly subscription basis, aiming to give professionals high flexibility with a trouble-free rental option, which can be adapted to project duration. Each subscription includes a hardware warranty, unlimited automated data processing and full online access to results. To mark this launch, Pix4D also announces a special offer for each subscription. 
Pix4D demos the Crane Camera solution on Liebherr's booth 
Pix4D and Liebherr teamed together to develop this fully-automated site monitoring solution, which uses on-site equipment to guarantee as little site intrusion as possible. "Liebherr is more and more engaged in digital construction. We wanted to spot what was really important in the BIM age," explains Thorsten Hesselbein, head of tower crane solutions at Liebherr. "We organized workshops with our clients to identify the needs of the future. Being able to visualize and monitor the progress of construction sites was one of the key challenges highlighted." Combining Pix4D's expertise in image-based mapping and Liebherr's experience with cranes, the partnership fit was ideal. 
Announced at Intergeo 2016 in Hamburg, Germany, the Crane Camera solution was initially launched within an exclusive early adopter program. The objective: partner with construction companies to test and challenge the solution within various site configurations and environments. "Our solution immediately generated high interest among construction professionals," highlights Julian Norton, business development manager at Pix4D. "Success was quickly confirmed when major players in the construction industry worldwide joined the program." 
Today, the solution has proven its efficiency. It collects site data on a daily basis, and provides a permanent overview on the as-built situation with 2D/3D deliverables (orthophotos, 3D point clouds, 3D mesh models, and digital surface models): required by construction professionals to verify the BIM process, check schedules, and control costs throughout the project. "Global companies like Balfour Beatty Construction, Rogers-O'Brien Construction, Brasfield & Gorrie, Porr, Dodin Campenon Benard (branch of Vinci Construction), and Stantec are using our solution. Results confirm we are now ready to deploy it at a larger scale," states Norton.