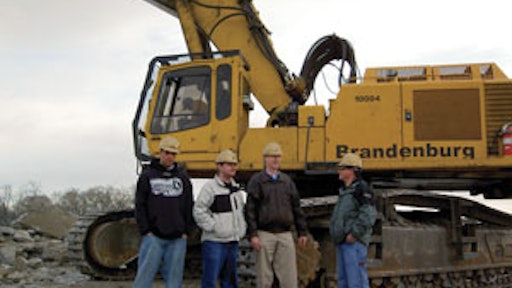 For every Perini Corp. or Turner Construction Co., there are thousands of family-owned construction businesses that have passed professional industry methods and standards down from generation to generation. The same is true for the $6 billion demolition industry. There are few publicly-owned demolition giants; the vast majority of demolition professionals operate within private, family-owned businesses.
The question arises: how do we recruit and train the next generation of professionals when younger family members may not be interested in following in their parents' footsteps? For the general construction industry, the answer has been through higher education. Today, there are scores of universities with distinguished construction management majors whose graduates are in great demand. Now it's time for the demolition industry to catch up with what the general construction industry has done so well - groom tomorrow's leaders.
An impressive step was taken five years ago when Purdue University introduced the nation's first demolition and reconstruction specialization, offered through its Building Construction Management Department in the College of Technology. Its courses teach practical, real-world skills to aspiring demolition professionals, as well as those who wish to bring additional value to their position on a general construction firm team.
The program has been enthusiastically supported by the National Demolition Association, the leading global trade organization for the industry. The goal of the association, as well as Purdue University, is for the demolition specialization to become the template for other university construction management programs in the U.S. and globally.
Experience-driven education
While there have been hundreds of textbooks on the topic of construction management, surprisingly, there has been no single source of basic demolition knowledge, best practices and standards - until now. This year, Purdue will debut the nation's first demolition textbook specifically targeted to university use.
The textbook was written by Richard J. Diven, a demolition industry consultant with nearly 40 years of hands-on experience in every position from laborer to company owner. Diven spent the past year writing the textbook in collaboration with Mark Shaurette, Ph.D., the Purdue professor who has taken over the helm of the demolition specialization area of study, and the National Demolition Association Education Committee. It will be integral to Purdue's Demolition & Reconstruction Management course, the introductory class for everyone pursuing a demolition specialization.
Diven recognized the best way to train students in demolition basics is through the experiences of the contractors who developed the industry into one that now requires a high level of knowledge of construction techniques, mechanical and electrical systems, engineering and computer technology.
Professor Shaurette agreed, noting, "I have always felt strongly that the industry needed to drive the content of the course and the textbook. Our students will be fully equipped with useful knowledge when they go out to pursue their careers."
Knowledge is key
Diven believes knowledge of demolition practices is essential to almost anyone entering the construction arena. "A knowledge of demolition is important no matter what area of construction management a person pursues," he states. "This knowledge will be a big asset for them, and for everyone on their team."
He elaborates on this point in the textbook, noting, "Our entire society is undergoing many changes, such as rebuilding our infrastructure and replacing buildings and structures originally built for technologies that have become obsolete. As existing structures within the United States and Canada age, it is anticipated that opportunities in demolition and reconstruction will continue to expand...
"Few construction-related fields," he adds, "offer as much opportunity for innovative thinking and career development as does the demolition industry."
The new textbook will be available online to Purdue students the first and possibly second year, with the idea of it being an evolving document that can be fine-tuned with new information and edited with students' input. When it's ready for publishing in a book format, it will be the definitive compendium of the means and methods that will serve the industry around the world.
Students Get the Full Picture
Students majoring in Construction Management at Purdue University are encouraged to consider pursuing a career in the demolition industry. Here are a few facts the National Demolition Association presents for students to ponder:
The job satisfaction rating among demolition contractors is among the highest in American industry.
The demolition industry plays a key role in practicing environmental stewardship through environmental remediation, recycling and architectural salvaging.
It takes as much expertise to demolish a building as it does to construct one.
There are many career paths to take in demolition, from project manager and estimator, to environmental specialist and human resources manager.
Demolition professionals are now among the first called to assist with man-made and natural disasters.
Michael R. Taylor, CAE, is executive director of the National Demolition Association. More information can be found at www.demolitionassociation.com.