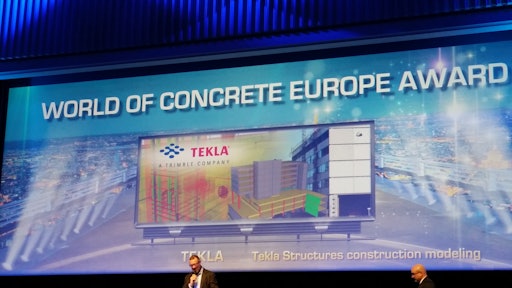 Tekla will introduce its latest software to create, combine and distribute constructable, information-rich structural models at World of Concrete, February 3-6, in Las Vegas, NV, and at World of Concrete Europe 2015, which is organized within INTERMAT and will take place April 20-25 in Paris, France.
As a Trimble company and part of Trimble Buildings, Tekla's focus at the shows will be to demonstrate improved processes and performance to those who fabricate concrete structures both on site and in the factory, as well as their supply chain. It will showcase a configuration of Tekla Structures targeted directly to concrete applications.
"This [configuration] directly fits with what we're trying to do as an organization," says Philip O'Brien, Tekla marketing manager. "We have been extending from steel to concrete for a number of years, but now we have an offering specifically for the concrete industry."
Tekla Structures software allows users to create accurate constructable models needed for successful building information modeling (BIM) and construction execution, regardless project type, size or complexity. The models created using the concrete configuration provide open, readable data for both precast concrete manufacturers and contractors who do pours on site. Because all information is created in 3D, it is easier to visualize and understand the task and adapt to design changes during the bidding phase and remain up to date on materials.
With an accurate concrete model complete with rebar, users can more easily visualize and sequence pours and pour breaks, as well as determine how much, when and where concrete formworks and rebar are required. During the pour, the software enables the concrete contractor to manage the pour on site, and the formwork team to view schedules and see the layout in 3D.
At the Pre-INTERMAT event held last week in Paris, Tekla Structures' concrete configuration was named a recipient of the first-ever World of Concrete Europe Award, a new category featured as part of the organizer's Innovation Awards program. To learn more about the award-winning products or about the INTERMAT exhibition, visit paris-en.intermatconstruction.com.
Companies in this article